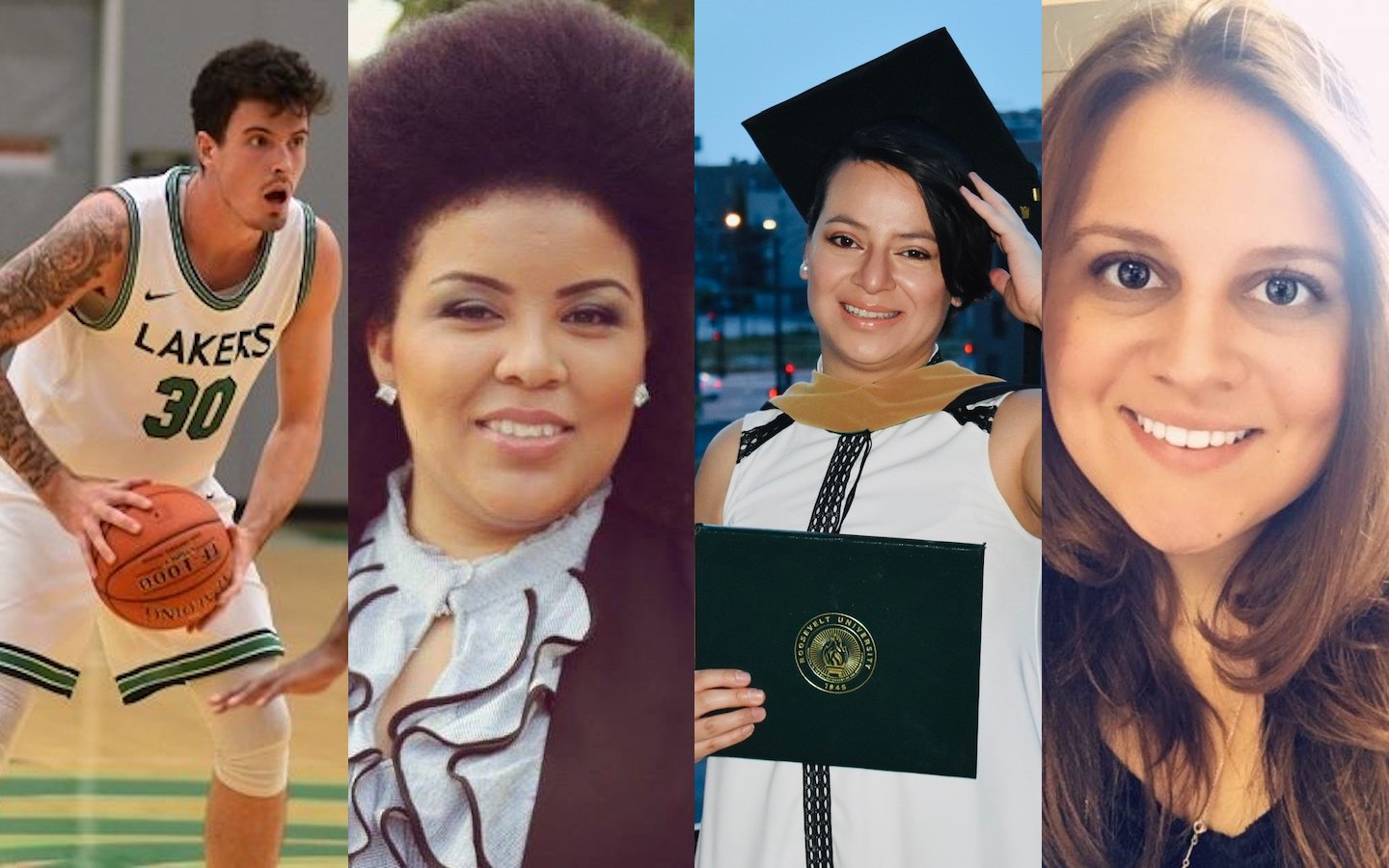 Congratulations to the Class of 2020! To celebrate Commencement, Roosevelt University Heller College of Business graduates shared their most memorable University experiences.
PORTIA DANIELS, MA ORGANIZATION DEVELOPMENT
Favorite memories: I loved attending the new student orientation program for the Master of Arts of Organization Development (MAOD) and the Master of Science of Human Resource Management (MSHRM) programs and having the opportunity to speak on the panel to share my experiences and tips for success. I also enjoyed building new relationships, from professors and students to executives in the field, that I wouldn't have met otherwise.
Proudest accomplishments: After one year in the MAOD program, I started reaping the benefits of my work sooner than I thought and was able to make a career change from project management to training. Being in a training function has afforded me some great opportunities to build my experience working on organization development and leadership development initiatives that I otherwise would not have.
Furthermore, the course work allowed me to design and develop interventions that aligned with my passion for building leaders, and I was able to clarify my approach in OD work toward that end.
Post-graduation plans: I would like to land a role as a training business partner or director with a focus on leadership development and organizational development programs, as well as to establish a leadership development firm that helps businesses and nonprofits with strategic growth through people development.
Who do you want to thank? I would like to thank all my professors and peers who have been an integral part of my success. I would like to personally thank Dr. Debra Orr for always encouraging me, recommending me and challenging me to be my best self throughout this journey. Your support has helped me build my confidence and expertise as I embark on a new journey in OD work.
Advice for the Class of 2024: Don't be afraid to bet on yourself. YOU are your best investment. As with anything in life, you get out what you put in, so always put your best foot forward. At the same time, realize that success is a team effort, and you don't have to do everything on your own.
When things get hard, tap into your community of friends, family, professors and peers. And no matter what remember you got this!
BENNETT FUZAK, ACCOUNTING
Favorite memories: Hitting the go-ahead shot against Trinity Christian in my final basketball game as a Laker.
Proudest accomplishments: Earning the 2019-20 Roosevelt Men's Basketball Growth Award.
Post-graduation plans: I have accepted a property accountant position at JLL.
Who do you want to thank? My family and friends for helping me through the college process and making it a very memorable experience. My coaches for believing in me and always pushing me to be the best student/athlete I could be. I would also like to thank my teammates. All the hours in the gym, on bus rides and team meals are memories that I will cherish forever.
Advice for the Class of 2024: College is a time to figure things out and find your purpose. You don't have to have it all figured out when you start, and everyone has their own journey. Control what you can control, which is your attitude and your work ethic, and good things will come.
IRENE PAPIEREK, MS REAL ESTATE
Irene Papierek is a Goldie Scholar and the 2019-20 CCIM Foundation Goldie Scholarship award recipient.
Favorite memories: International real estate Cayman Islands trip.
Proudest accomplishments: I am very proud that I completed my dream master's degree while working full time and keeping my grades great.
Post-graduation plans: I have been with Ventas for 8+ years. I am looking forward to growing in my current role, as well as working my way up the ladder. Now that I have my dream degree, the possibilities are endless. I am also going to get my CCIM designation this year.
Who do you want to thank? First and foremost, Goldie B. Wolfe Miller. If it wasn't for her motivational speech about putting women into corner offices in October 2013, I would not be where I am today. Goldie introduced me to this school and this program. Goldie taught me the importance of being a woman in commercial real estate. She has taught me that I deserve the corner office. And most importantly she has taught me to always go after my dreams.
I would also like to thank Collete English Dixon — from the day I applied to RU, Collete has been my right hand. She has guided me in my professional and educational life, and I am eternally grateful for having her in my life. She is amazing and such an inspiration.
Advice for the Class of 2024: Keep leveling up your goals. The feeling you get when you accomplish a goal and are ready to tackle the next one is incredible.
LILIAN YOOL, MS REAL ESTATE
Favorite memories: Our international trip to Cayman Islands for the spring 2020 international real estate course.
Proudest accomplishments: When I was awarded the 2020 Alpha Sigma Gamma Graduate Student of the Year.
Post-graduation plans: I want to utilize my skills to impact social equity and urban sustainability through the development of affordable housing.
Who do you want to thank? I want to thank my family for all their support, especially my daughters Elizabeth and Angelica. I also want to thank the dedicated faculty at the Marshall Bennett Institute of Real Estate and our executive director, Collete English-Dixon.
Advice for the Class of 2024: Persevere and work hard to attain your dreams and goals!