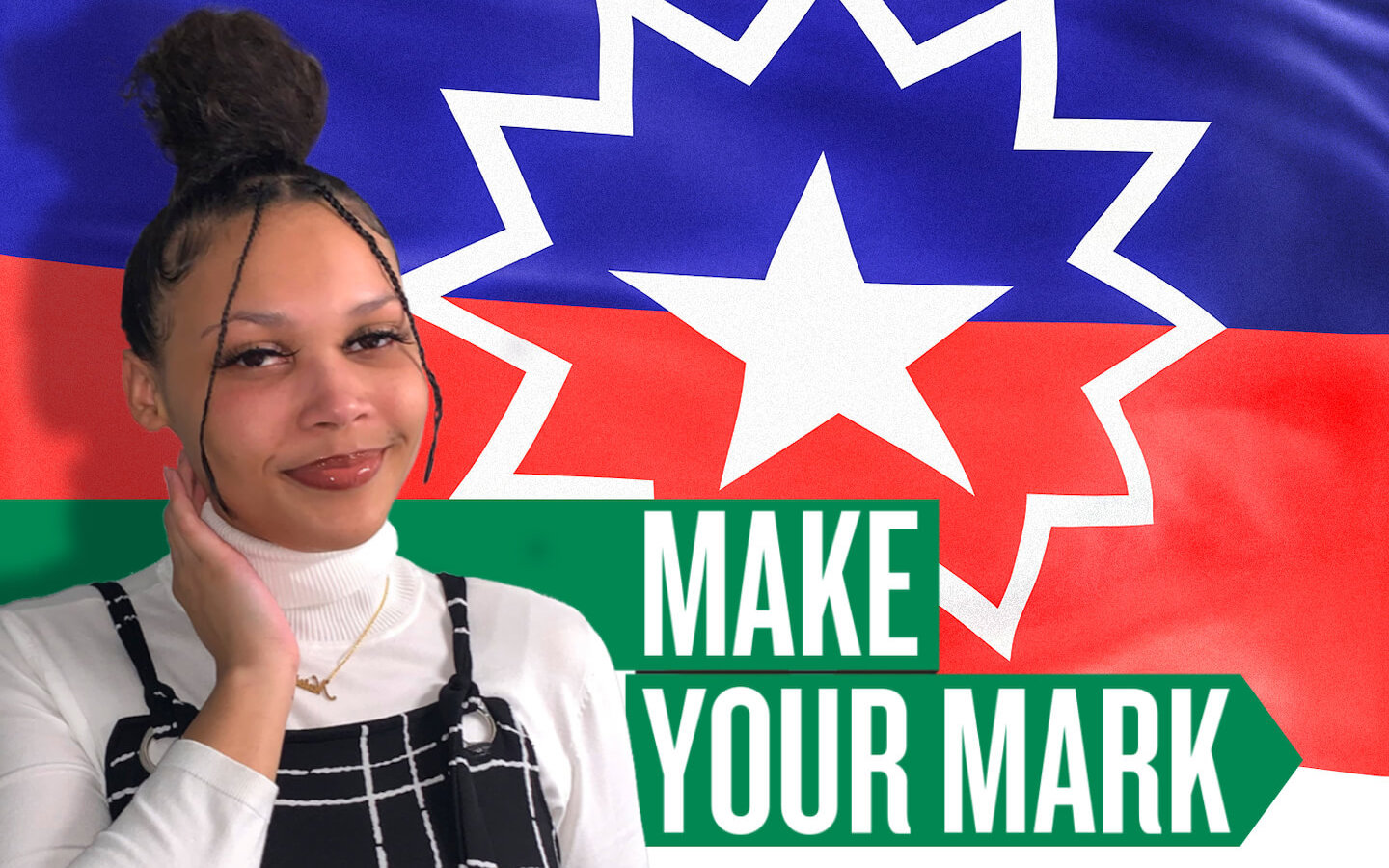 Mikaylah Anderson is majoring in psychology with a minor in sociology and a concentration in Child & Family Studies. Mikaylah wrote about the Black Student Union and celebrating Juneteenth in 2021.
What does Juneteenth represent for you?
While many consider the Fourth of July to be Independence Day, Juneteenth is what truly marks freedom to me. I think Black youth should think of Juneteenth as representing freedom and unity among our people. It's a huge milestone in our history, and we should continue to recognize the date for what it is while celebrating how far our people have come.
Our resilience and strength are forever prosperous. As hard as systemic racism has tried to tear us down, we've come back tenfold every time, and we will continue to do so.
Why is it important to amplify awareness of Black issues?
As Roosevelt is a social justice institution, it's always important for us to bring awareness to these issues. The Black community has suffered a long and treacherous history globally, and we still experience daily repercussions systemically. To make any changes, there's always a need to amplify awareness.
Universities are social institutions that are designed to educate. More effort and attention brought by universities towards Black issues will create more opportunities to positively affect our community.
A huge issue I see in society is ignorance. There's a lot that people need to be educated on, and people need to be willing to receive that knowledge to do better. The system in which we live is flawed, and until people want to recognize that with the intention to change it, the Black community will continue to experience disadvantages and distress.
What is the mission of the Black Student Union? What events do you host?
Black Student Union aims to provide a safe space for Roosevelt's Black student body to celebrate our culture, promote educational opportunities and connect students. BSU has about 40 to 50 active members each academic year, although our alumni tend to pop in and support BSU events/fundraisers from time to time as well.
Two of our most popular events are our Annual Melanin Ball and Soul Food Social. Our Annual Melanin Ball happens during Black History Month. It's similar to a homecoming and was created to celebrate our Blackness and Culture. We also crown a Black Homecoming King and Queen in addition to granting them a scholarship.
The Soul Food Social speaks for itself. It typically happens at the beginning of the academic year to introduce everyone to BSU. As we all get to know each other and socialize, we dine over some soul food. Chicken, mac & cheese, collard greens, yams, all that!
Why did you get involved with the Black Student Union?
The high school I attended consisted of 3,500 students, and maybe 200 to 300 were people of color. For Black students specifically, there were very few of us. It was a completely different environment than my childhood, so I did experience a great deal of culture shock.
I didn't feel welcomed at all, and it discouraged me from becoming involved. My focus was to graduate as quickly as possible. I vowed that when I attended a university, I would create an experience that I never had in high school.
Once I began to attend BSU events, I was happy to know there was a Black community on campus, ready to welcome me with open arms. Seeing the fun and liveliness at these events inspired me to be a part of that momentum, so I joined!
How has Roosevelt prepared you to succeed as a leader?
Roosevelt has acted as the catalyst in my journey of becoming a leader. I never realized I was one until I became one here. I still tend to forget at times. I just like to think of myself as a supporter and advisor to others. I've attended Roosevelt two years now, and I think I get more and more involved each semester.
Another thing I love about Roosevelt is its small size. Because of this, it's allowed me to form connections with other leaders on campus. I've learned so much from some incredible faculty as well as other student leaders. Roosevelt's environment has allowed me to grow and flourish in a way where I no longer look at new opportunities as intimidating but exciting.
How has Roosevelt helped provide a safe, inclusive space for Black students?
Roosevelt University is always open to hearing suggestions on how to improve our experience. It helps make us feel like our opinion matters. I like the extent Roosevelt has gone to support our community in times of need through things like the Black Student Equity Fund. I've also noticed a lot more upliftment of Black student and faculty voices, which warms my heart.
The Office of Multicultural Student Support Services works day in and day out to brainstorm ways to help us excel in our college careers. While there's surely always going to be room for improvement, student services like these and BSU help out in making us feel welcome.
Roosevelt should continue getting feedback from Black students and faculty as well as bringing more Black educators into our institution. I also think Roosevelt needs to do more work with community organizing within Chicago.
Chicago is not new to social movements, so I know there are tons of groups and organizations that we could network with. By working with nonprofit organizations geared toward the upliftment of Black people, Roosevelt can encourage support from other universities and institutions.
What can we do to support the Black community?
Educate ourselves. A lot of the history we're given in our academic career prior to college is watered down. Everyone with privilege has that responsibility to learn what was missed and how we as a society can improve.
Take accountability. Don't be afraid to uncover those hidden biases. This is necessary to begin rewiring your cognitive processes surrounding race. It may not be easy, but it must be done to encourage change.
Understand that only Black people can tell our stories. Let these voices and experiences be heard without the intention of putting your opinion in the mix. We've been silenced for quite some time, so allow us to speak and process our trauma without the notion that it'll be invalidated.>
Mikaylah just finished sophomore year and plans to graduate early in the fall of 2022. After graduation, Mikaylah hopes to earn an esthetician certification and explore more interests.