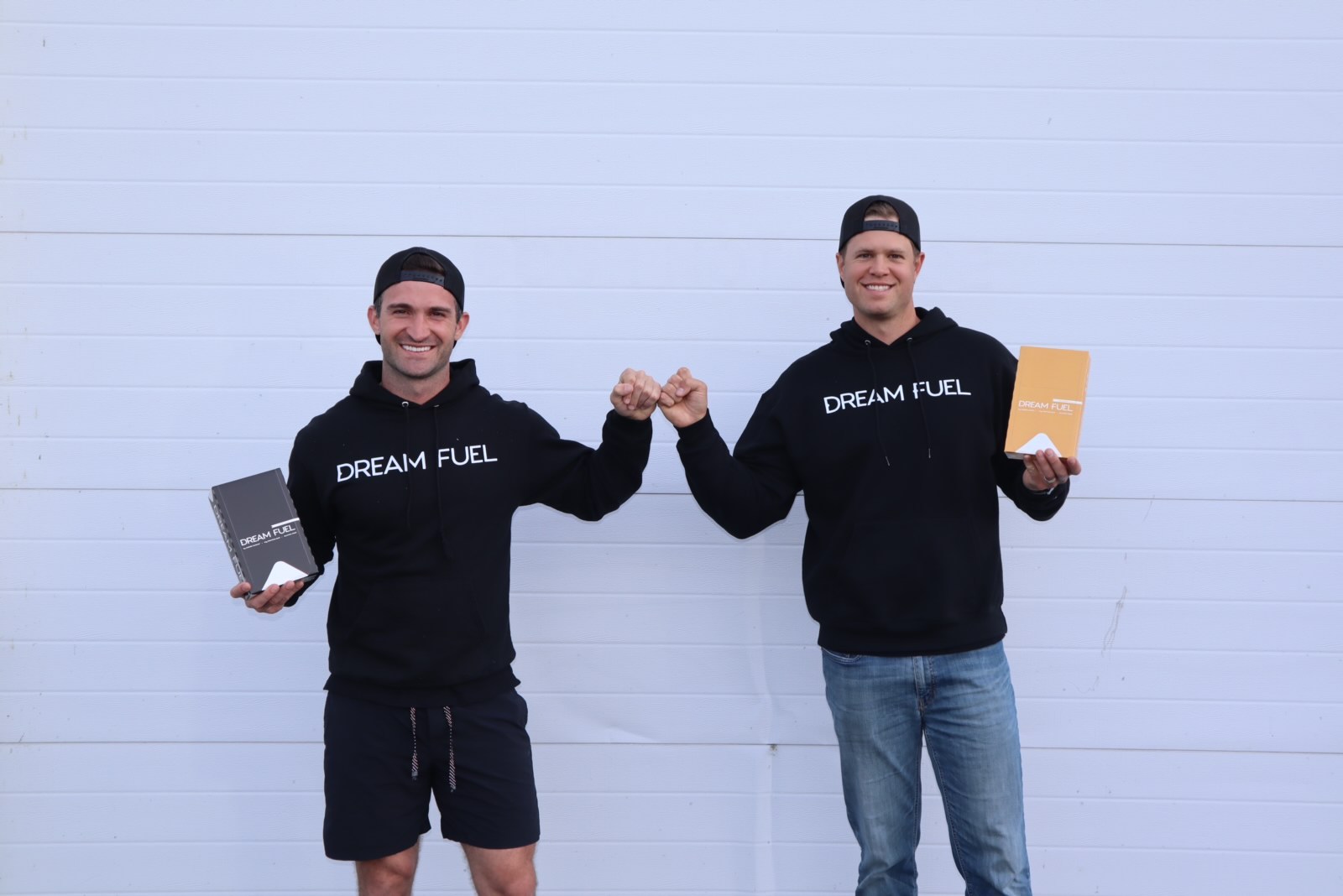 Cashew butter, grass-fed collagen, chicory root fiber: the short ingredient list on the back of DreamFuel wrappers sounds more at home in a health food store than a protein bar.
For alumni duo Brett Velon and Matt Sharp, the healthy all-natural bar is the culmination of years of hard work and entrepreneurial aspirations.
Since its launch in 2020, DreamFuel protein bars have expanded to over 65 stores throughout Chicago with a bustling online business. This year, the graduates will have their product on sale in the Roosevelt dining center.
"It's been a great ride so far," Sharp said. "I thoroughly enjoy working together as a team."
The DreamFuel owners call their customers Slayers of Life, uniting a community of weekend warriors, students with full-time jobs, entrepreneurs working late nights.
Velon and Sharp understand their customer's lifestyle from experience.
From business student to business partner
At Robert Morris, before the integration with Roosevelt University, Velon earned his bachelor's degree in management and played on the conference championship baseball team. "The faculty did a great job of having open discussions about real-world applications for what we were learning," he said.
After graduating, Velon went to work for a Fortune 200 corporation. "I absolutely hated it," he admitted. Wanting to work for himself, Velon opened a sports performance gym. Velon saw that current protein bars, designed for high-performing athletes, were low quality: The ingredients were unhealthy, or businesses had poor customer service or lack of community.
"While we are a protein bar company that delivers a phenomenal, all-natural product, we view ourselves as a customer service company," said Velon.
Velon set out to make a protein bar with whole ingredients that you can feel good about eating. For 18 months, he and his business partners threw themselves into the startup process.
In the years between, Matt Sharp earned his MBA in finance from Roosevelt University. Sharp was living downtown and working full time in medical sales. One of Roosevelt's biggest selling points was its two campuses in downtown Chicago and Schaumburg.
"My job involved a lot of travel throughout the Chicago suburbs so having several locations I could attend classes at was a huge benefit," said Sharp. "Its affordability and wide range of educational offerings made the decision to choose RU easy."
Sharp knew Velon from high school and had watched the new business gather steam. Sharp reached out to see if he could use his sales experience to help get the bar into retail stores.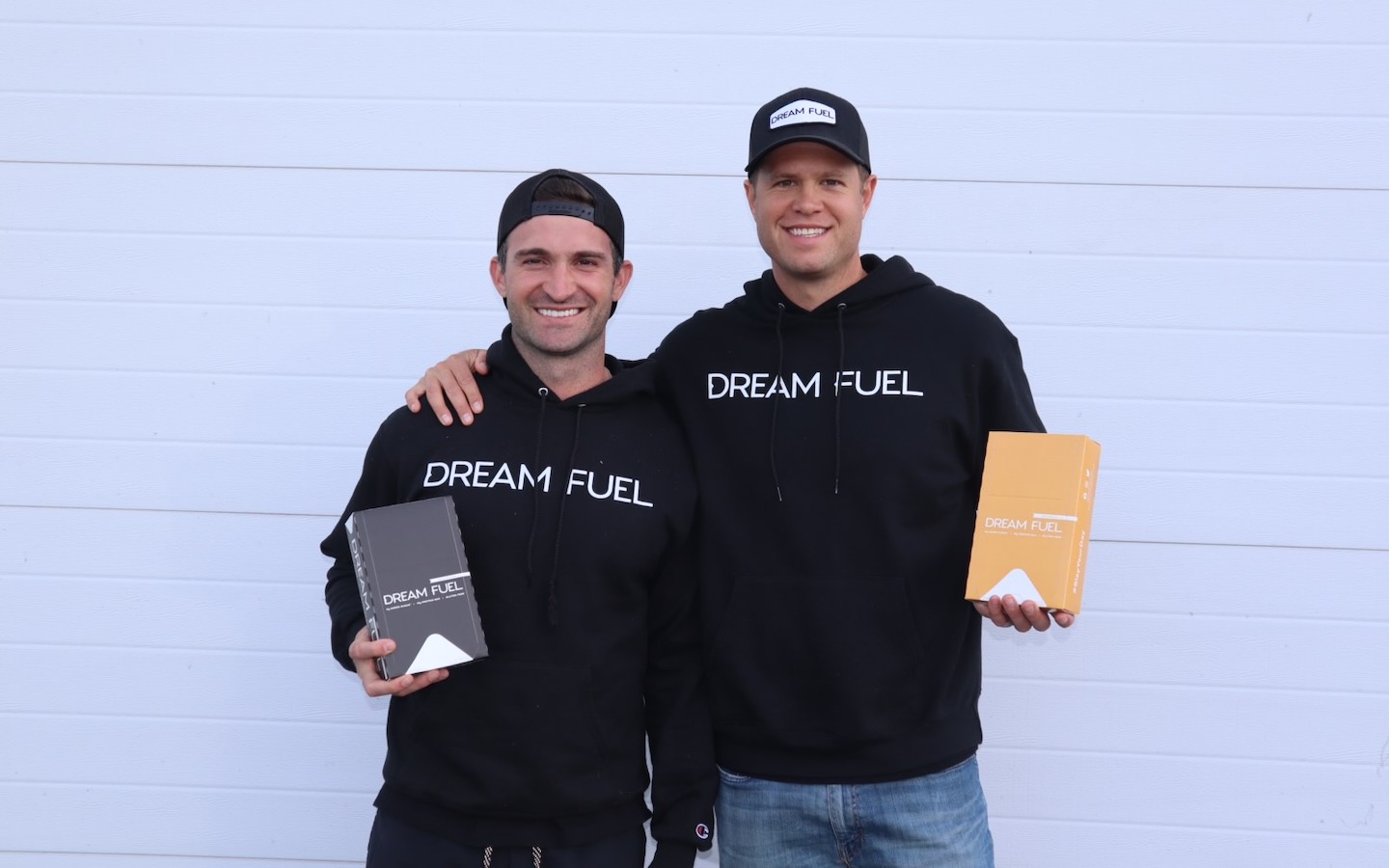 From concept to full-fledged business
Sharp says he'll never forget the first time he saw DreamFuel on a shelf next to Clif Bars and Rx bars. But getting DreamFuel into stores turned out to be the easy part.
Retail stores loved the idea of a locally made power bar. The bigger problem has been distribution. Distributors take a huge cut and come with tons of rules and regulations, but shipping the product themselves could add another $8 or $10 to each order.
To find solutions, each partner brings their own strengths. Velon is the diplomatic one. When the business partners have conflicting opinions, he helps the group talk through options and come to a consensus.
Sharp is the numbers guy. "The MBA program at RU laid a foundation for managing finances, projections and margins to best help run a business," he said.
Together, the entrepreneurs waded through trademark issues, legal hurdles and website development. DreamFuel hopes to roll out another new flavor and finish shelf life testing, which will help forge agreements with large retail chains.
"Our goal is to make the brand better each day," Velon said. "And as long as we're doing that, we're in a good place."
Advice for aspiring entrepreneurs
Entrepreneurship will consume you. Owning your own business means that you're not just working a 9 to 5. Your work day is from the moment your eyes open to the moment they close.
Write down all of your ideas. Business concepts that seem impossible may become much more feasible in five or ten years. Long before he partnered up with DreamFuel, Sharp had toyed with the idea of starting his own business. He wrote down everything in a journal to keep track of his business concepts. "The more concepts you think through, the easier it will be to know when a good idea presents itself," Sharp said.
Start somewhere. "If you wait until you think you're ready, you'll never start," Velon said. "It's your willingness to learn as you go that will drive your progress."
See challenges as learning opportunities. Even with a strong business background, entrepreneurs have to overcome unfamiliar challenges to get their business off the ground.
Even if a deal sounds great, dig into all the details. The two have seen the importance of being fully prepared to deliver on any deal they make, even if it looks perfect on the surface. "If you're not prepared for it, or if it stretches you too far, you're probably going to end up in a bad spot," Sharp advised.
Savor every success. Velon treasures the memory of the first bars he sold beyond his network of family and friends. "It was a rewarding feeling," he remembered. "You create something, and you think it's good and you're proud of it. But that doesn't always mean that other people are going to enjoy it. We created something of value."
Earn Your MBA at Roosevelt
Pursue your entrepreneurial dreams with a Master of Business Administration from Roosevelt University. Choose from 17 concentrations in fields like health care, finance, accounting and more. Explore the Roosevelt MBA in Chicago, Schaumburg and online.