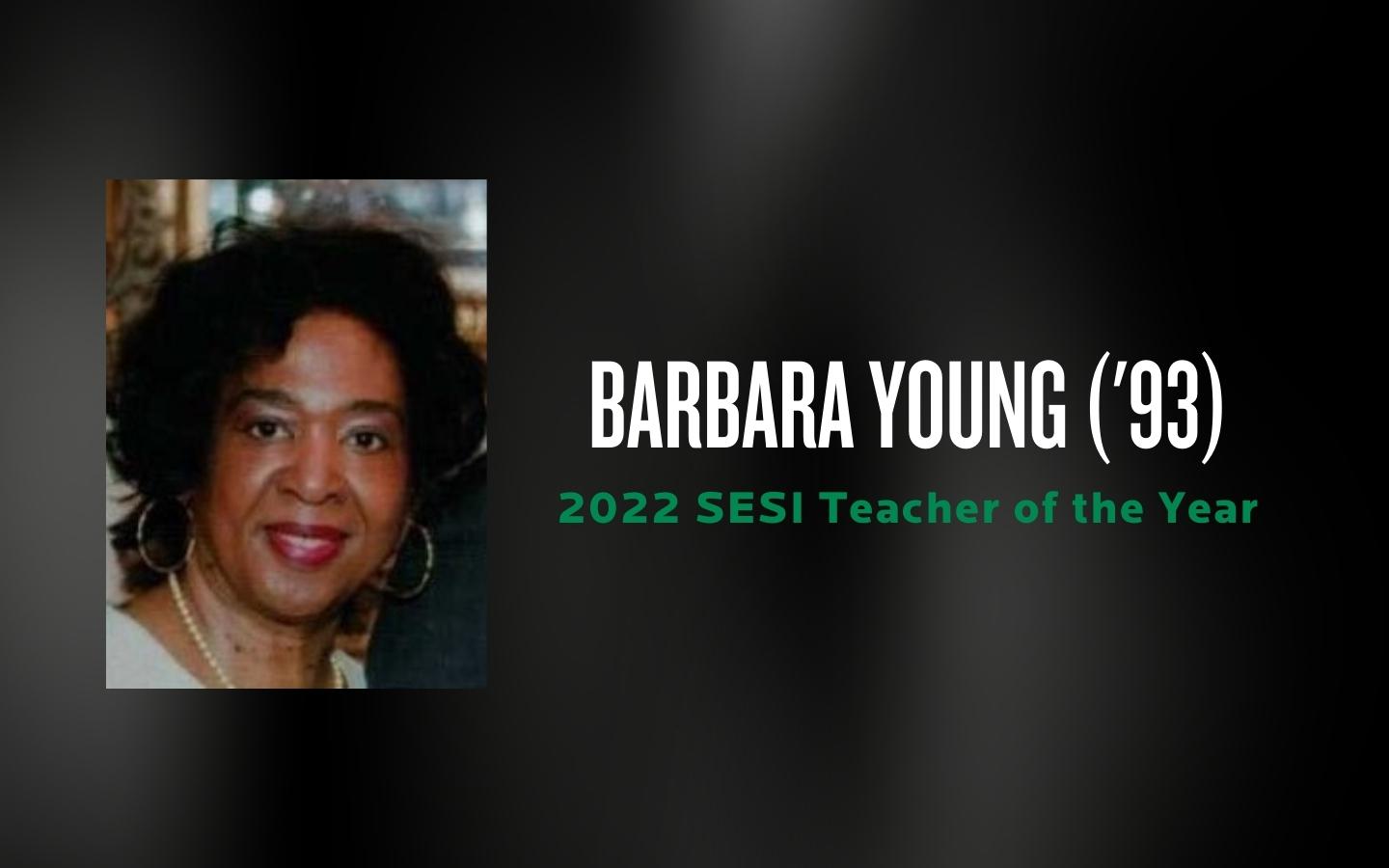 Barbara Young ('93) was named regional 2022 Teacher of the Year for Specialized Education Services, Inc. (SESI). Teacher of the Year honors outstanding, innovative educators who lead by example with an unmatched level of dedication to supporting all students. The annual recognition program celebrates teachers who exemplify high-quality, evidence-based instruction at SESI while recognizing the importance of equitable education for all SESI students.   
Barbara has been a dedicated educator for 15 years. The last six years she has taught at Safe Achieve Academy where she interacts with learners by daily assessing and instructing them primarily in mathematics and reading so they will progress academically, behaviorally, creatively, and social-emotionally. She is dedicated to creating environments in which students respect one another and are comfortable in taking risks.  Additionally, she serves as a member of the school's behavioral health team, an ongoing initiative focused on the health and wellness of students and faculty.  Barbara is recognized by all as a teacher, mentor, and role model. 
Barbara was also honored with "the 2018 Crescent Moon Award in the area of Special Education." This award recognizes women who have contributed and/or made positive impacts in their fields.  It is presented by the men of Phi Beta Sigma Fraternity, Inc., Upsilon Sigma Alumni Chapter.
How did Roosevelt University prepare you to succeed as a student and after graduation?
In some ways, Roosevelt University was an extension of my homelife where I was taught tolerance, fairness, and open-mindedness.  Roosevelt built on my home foundation, and I graduated with a stronger sense of objectivity. Moreover, Roosevelt wove academic studies with real-world relevance.  In "The City and Citizenship," Course 245, discussions went way beyond a class that perhaps culminated in a 100-question citizenship test.  I loved the class which consisted of diversity in age, ethnicity, gender, socio-economic status, spiritual belief, etc.; we had the greatest discussions about inclusivity and acceptance regarding social policy and economic justice.  Since graduating, as a broader commitment to social justice I have volunteered for causes ranging from chaperoning girl scouts to visiting senior citizen homes to chairing a citywide high school essay contest to instructing adults including immigrants in literacy to volunteering in voter drives. 
What is your most memorable Roosevelt experience during your time as a student?
"Barbara, I have an opportunity for you," said Professor Charles-Gene McDaniel, journalism department chairman.  McDaniel's conversations generally spurred me to think and always encouraged me to do my best.  This one, however, somewhat worried me.  McDaniel was sending me on my first solo journalism job.  I was an English undergrad, and the assignment called for a journalism major.  I tried to get out of it; he would not hear of it, as he gave me the address to the InterContinental Hotel.  I continued rationalizing?  Protesting?  McDaniel finally said, "I am sending the best."  You always knew when his conversation had ended.  Days later, McDaniel announced that my by-line appeared on the front page.  He winked and continued teaching.  "There is no such thing as first annual . . .," he declared.   
What advice do you have for current Roosevelt students?        
In multiple senses, "You are living history."  Therefore, my advice is to "Live well."  In living well, you are not obligated to believe everything you hear, but you should listen and not be afraid to change or alter your perspective.  Often, nature shows us that change is good.  Grow by experiencing something new.  Whether you venture out on your own or take the advice of a professor who believes in you, take advantage of opportunities that are presented.  Have a sense that the possible is possible because like Roosevelt University, itself, you belong to a family "Dedicated to the Enlightenment of the Human Spirit."
What is a fun fact you would like others to know about yourself?        
On assignment as a journalism student, I helped "produce the first newspaper of the Inland Press Association, during the association's Annual Meeting, October 20-22, 1991, at the InterContinental Hotel."  Some people we met or interviewed included Ann Landers, syndicated columnist; Charles Brumback, president of Tribune Co. of Chicago; Ray Moskowitz and Frank Santos, reporters and editors; Dick Cheney, defense secretary; and William Clinton, Arkansas governor and presidential candidate.