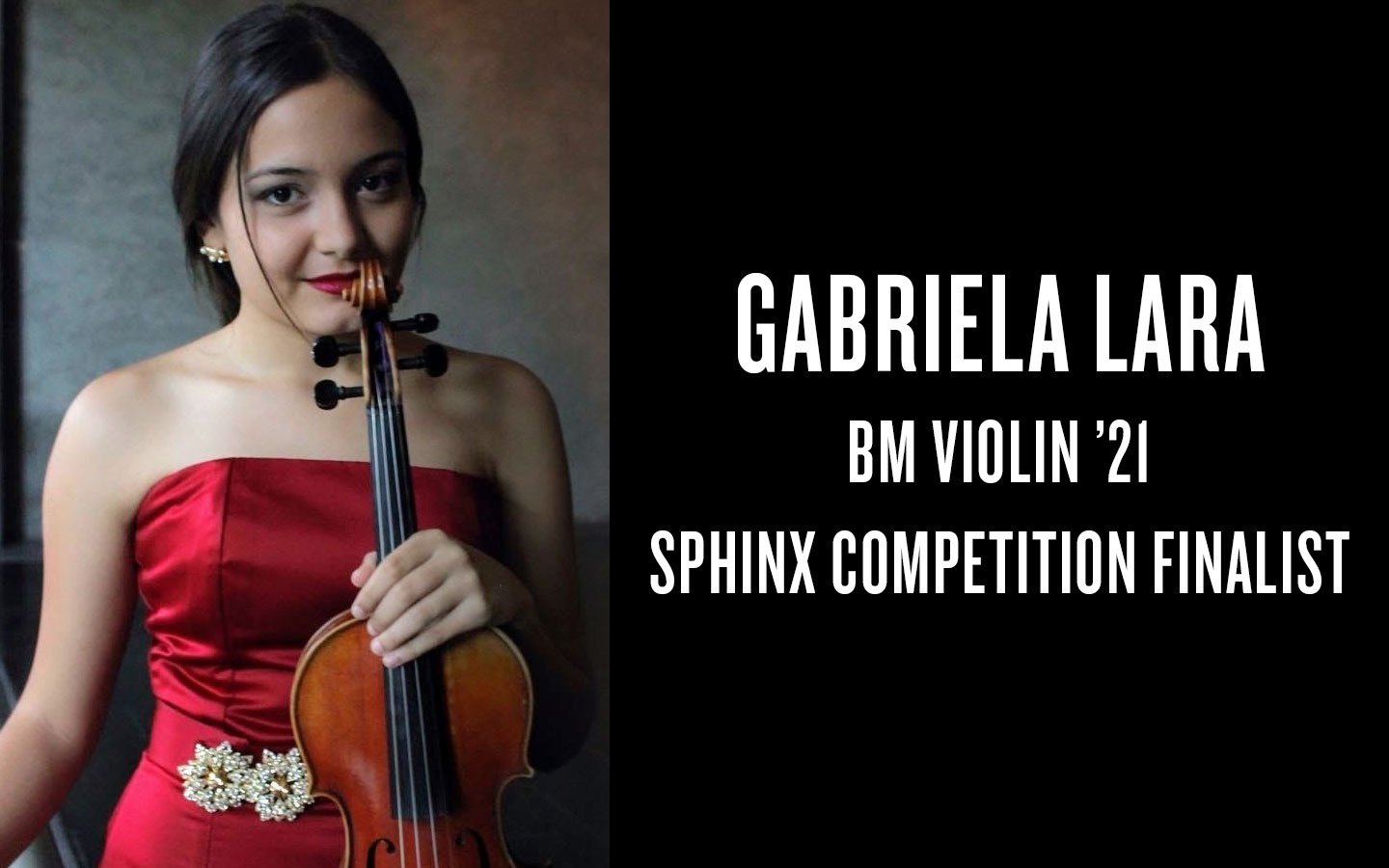 Alum Gabriela Lara's moving and virtuosic violin performance earned her a career-changing prize in a competition for emerging string players of color.
Lara won second place in the national Sphinx Competition, which recognizes young Black and Latinx string players. The internationally renowned panel of judges selected her as the winner of the $20,000 prize in the senior division, ages 18 to 30.
Lara will also receive $5,000 as the winner of the audience choice award. Viewers texted in their favorites during the live streaming performance.
""Being in the final of the Sphinx 25th Competition launched my studies into a new professional setting," said Lara. "I am grateful for all the support that CCPA faculty and staff gave me, especially to my violin teacher Almita Vamos."
Hear Lara's performance of the first movement of Samuel Coleridge-Taylor's Concerto in G Minor.
Lara came to Roosevelt from Barquisimeto, Venezuela, a city known for its sunsets and musical culture. Her lifelong training in violin led her to the Chicago College of Performing Arts, where she studied with Almita Vamos, MingHuan Xu and Adam Neiman. She graduated with her bachelor's in violin performance in 2021.
The Sphinx Organization has promoted artistic excellence and inclusion for 25 years. As a finalist, Lara submitted a video recorded in Roosevelt's Ganz Hall with accompanist (and fellow Laker) Andrew Cannestra. Lara will have access to scholarships and fine instruments through the Sphinx Music Assistance Fund.
"These awards mean so much to these artists at this critical phase in their careers," said Lara Downes, an accomplished pianist and host of the competition.
Lara also won the CCPA Solo Competition in 2021. The Roosevelt community enjoyed her live performance with the Conservatory Orchestra on Thursday.
The Chicago College of Performing Arts (CCPA) trains and inspires emerging leaders in performing arts, education, composition and arts administration. Over 500 students from more than 35 states and 16 countries belong to CCPA's Music Conservatory and the Theatre Conservatory.