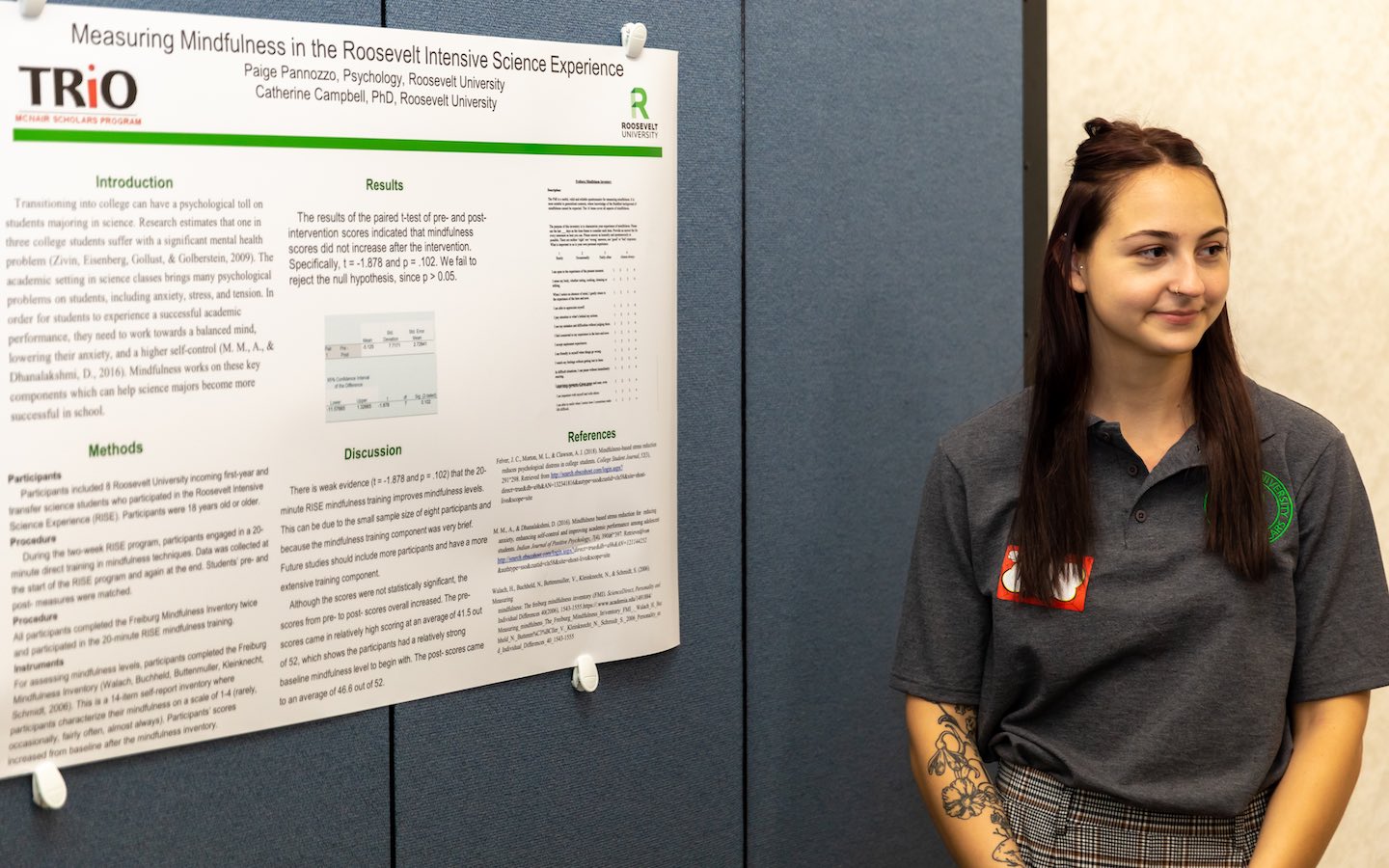 As a first-generation science student, Victoria Lopez said that she "always used to question whether she could reach her goal of attending graduate school."
Through the McNair Scholars program, Lopez built her research skills in Dr. Oluseye Onajole's drug research lab. This year, she had to choose between four PhD program acceptances.
Lopez is one of the 92% of graduating McNair Scholars who have earned graduate program offers for the upcoming year. Many landed multiple offers in their academic fields. Next year, Lopez plans to attend a dual program in Neuroscience and Genome, Cell, and Developmental Biology at Indiana University.
"Our Scholars have been working hard to overcome the challenges created by COVID-19 and are pushing forward to assure a solid foundation for their future," said Peggy Valdes, director of the TRIO program.
The McNair Scholars Program is a federally funded bridge program that helps first-generation or otherwise underrepresented students build strong, competitive graduate school applications.  The program currently serves 26 students majoring in subjects like psychology, political science, biology and more. Students take courses that prepare them for roles as researchers and educators.
McNair Scholars also receive a research stipend up to $2,800, as well as financial support with graduate school visits and applications.
Check your eligibility for the McNair Scholars program. 
MCNAIR SCHOLARS GRAD SCHOOL ACCEPTANCES
Ball State University
Chicago School of Professional Psychology
Loyola University
New York University
Northern Illinois University
Roosevelt University
University of Central Florida
University of Colorado-Boulder
University of Illinois-Chicago
University of Indiana
University of Iowa
University of Massachusetts-Amherst
University of Michigan
University of Missouri-Kansas City
University of Ohio
University of Pennsylvania
Virginia Technology University
Western Illinois University
Western Michigan University
This year's 12 graduates brought an inclusive and equitable lens to their research projects. McNair Scholars studied the relationship between identity distress and college adjustment; the reach of carceral power; and mental health in cancer patients.
Psychology major Giselle Garcia conducted her research on the impact of remote learning on college students due to COVID-19. She hopes to one day work in higher ed administration. Garcia received three graduate acceptances, including an Ivy League program at the University of Pennsylvania.
"As a first-generation Latinx college student, having someone who understands what I am going through because they share a similar background has made all the difference in my educational experience," she wrote. "Having diverse faculty and administrators on college campuses is important to successfully creating inclusive learning environments."
All 14 current Roosevelt students have found summer research posts. Some plan to keep working with their Roosevelt mentors, while others will join outside opportunities like the Big Ten Alliance Summer Research Opportunities Program. 
MCNAIR SCHOLARS IS RECRUITING!
Roosevelt students might be eligible if you have earned at least 60 credit hours in Fall 2021, a GPA or 3.0 or above, and are underrepresented and underserved in higher education. Take the eligibility survey or email mcnair@roosevelt.edu.