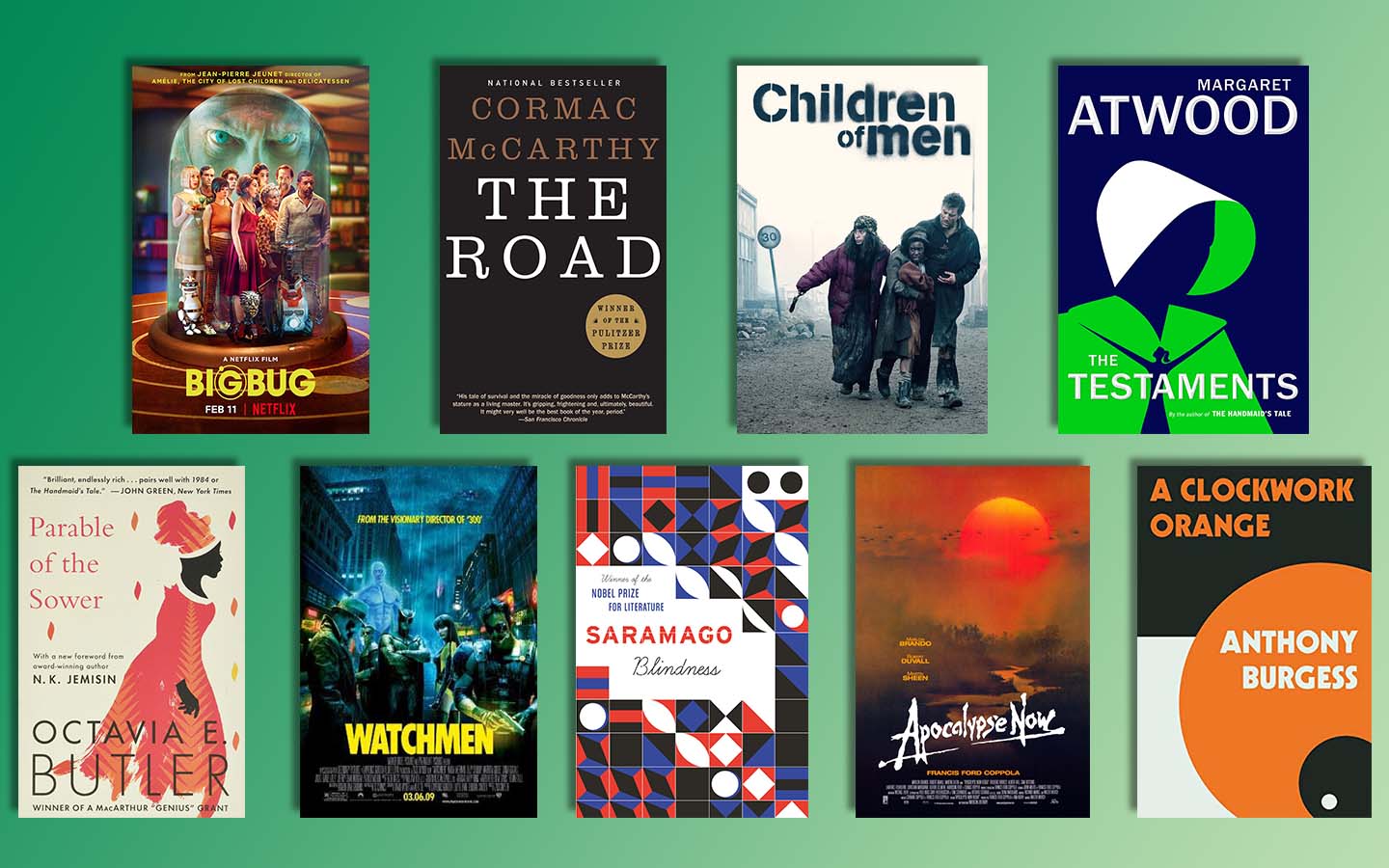 It's the end of the world as we know it in Roosevelt University's Dystopian Literature and Film course.   In Professor Mick McMahon's classroom, students learn about government control, environmental destruction and loss of identity — themes that feel all too relevant in 2022.
Through their in-class reads, students connect social justice issues across time and geographic boundaries. McMahon's students learn how to build arguments in writing and how language can help us understand and advocate for social justice.
Beyond literature, the course teaches effective communication, critical thinking and civic engagement.
This summer, add one of Professor McMahon's recommendations to your to-do list:
Apocalypse Now (1979)
The Francis Ford Coppola classic transposes Joseph Conrad's Heart of Darkness on the seething, brutal violence of the Vietnam War. Captain Martin Sheen embarks on a journey into Cambodia on a secret mission to assassinate Marlon Brando, a renegade Special Forces officer with a God complex.
The film has a 98% critics approval rating on Rotten Tomatoes.
Bigbug (2022)
When robots strike back, Elsa Zylberstein's androids lock her inside for protection in this dark sci-fi comedy. Jean-Pierre Jeunet, director of Amelie, brings his signature whimsy and absurdity to a tale of technology gone wrong.
Blade Runner (1982)
In a cyberpunk Los Angeles, a cynical Harrison Ford hunts down an escaped band of replicants. Ridley Scott's sci-fi cult classic explores what it means to be human.
Blindness, by José Saramago
When a city is suddenly plagued by mass blindness, violence and social disintegration ravage the community. Nobel Prize–winning author José Saramago penned the masterpiece in Portuguese in 1995. It's a chilling reflection on epidemics and the dangers of othering.
Children of Men (2006)
Alfonso Cuarón directs a surprisingly optimistic thriller about Clive Owen at the end of the world. In the advanced year of 2027, humans are enduring a drought of infertility that has meant no babies have been born in the last 18 years. The film follows asylum seekers faced by a brutal, oppressive government.
A Clockwork Orange, by Anthony Burgess
Burgess invents an ultraviolent world beset by teenage gangs and oppressive government. Come for the notoriously difficult argot, stay for the dark comedy. The book has earned recognition as one of the best English-language books of the 20th century
The Handmaid's Tale and The Testaments, by Margaret Atwood
Atwood's 1985 novel earned an HBO adaptation and a 2019 sequel in the midst of America's current conflict over reproductive rights. The books follow the "handmaids," a group of women who are forced to bear children in the dystopian city of Gilead.
Parable of the Sower, by Octavia Butler
Butler's 1983 novel takes place in a world destabilized by climate change and wealth inequality (sound familiar?). Lauren Olamina launches a northbound journey and her own religion, Earthseed. The novel returned to the New York Times bestseller list in 2020.
The Road, by Cormac McCarthy
A national bestseller and Pulitzer Prize winner, The Road tells the story of a father and son in a post-apocalyptic America. Cities are burned out. Cannibals roam the desolate landscape. While often dark and sobering, the moving novel explores the meaning of civilization.
Watchmen (2009)
The Watchmen rise to power as a team of vigilante crimefighters. But who watches the Watchmen? Zack Snyder's faithful adaptation of the graphic novel delves into hero worship and human fallibility.