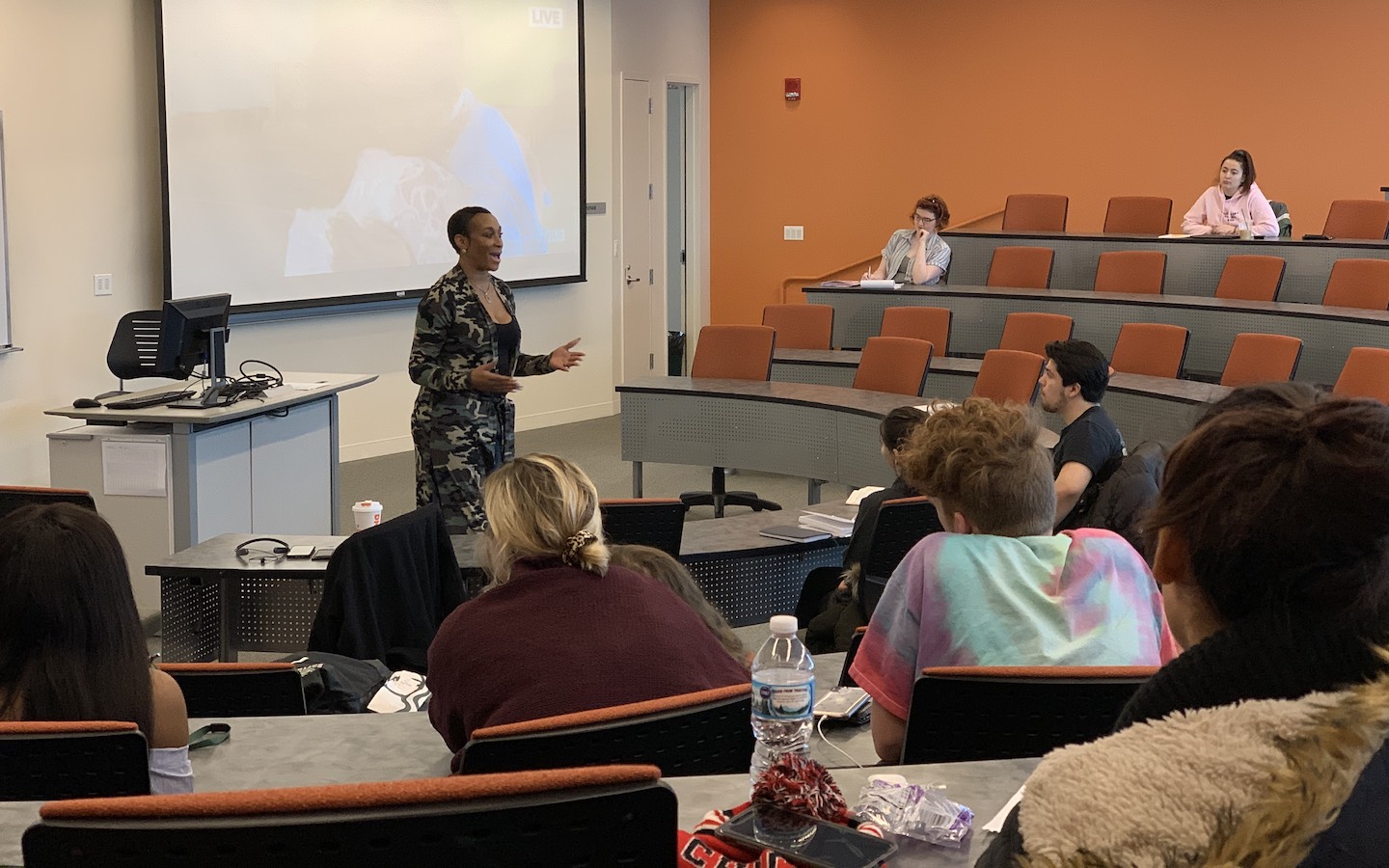 This spring, reality TV insider Ericka Mauldin Porter joined the juicy series of guest lectures in Professor Montgomery's course.
From The Biggest Loser to Shark Tank, students in Professor Billy Montgomery's class get an inside look at how reality shows are made.
Over the semester, the journalism and media students read articles, watch shows and film their own videos to build their production skills. For students who hope to work in the industry, the course gives them inside information on how to break in.
The real cornerstone of the course is the stacked roster of guest lecturers from every type of show. "A couple of them have shared that they had a statute of limitations," said Professor Montgomery. "But the other ones have had no problem with telling people how it all works, sharing some real industry secrets."
Learn more about the bachelor's in journalism and media studies degree.
INSIDE THE MEDIA STUDIES SYLLABUS
Billy Montgomery is a teaching professor in Roosevelt's journalism and media studies program. He began teaching (Sur)Real World in 2016 as a way of countering the "dehumanizing influence" of reality TV.
Professor Montgomery's goal is to help students critically analyze what's going on behind the camera. What stories are being told? And whose stories are left out? The show gets into the social science of media, exploring how race, ethnicity, gender and sexual orientation are represented.
Binge-watching assignment: Over the entire semester, students follow one reality show and write a small synopsis. Students bring in clips and the class discusses the entertainment value, production and what it says about societal norms.
It Just Got Real: In short writing assignments, students reflect on events in their own life, what it made them realize and how they would depict them on camera.
Shark Tank simulation: small groups of students come up with a new concept or idea to pitch to their classmates, who decide whether or not it will be funded. One group proposed an Allergy Detection Utensil, a fork that would alert you about allergic substances as you eat.
The final project: In small groups, students prepare and pitch original TV show concepts, preparing sizzle reels to hone their production skills.
Media studies guest lecturer Nakita Nicci
Throughout the semester, previous reality TV stars visit the class to demystify the process and debunk or confirm popular industry rumors. Students met with cast members like Nikita Nicci, who traveled to Italy on To Rome for Love for an international perspective on the challenges of dating as a black woman.
"We need to look past what separates us — it's literally skin," she said. "It's unfortunate that I go to other countries and don't experience the same treatment that I do in the United States."
Nicci is an award-winning author and CEO of Lanique Virtual Solutions, a boutique call center that helps women with chronic illnesses secure financial freedom by working from home. She invited students to an event, sponsored by BET, where aspiring entrepreneurs could meet with industry experts and learn how to set themselves up for success.
"Consistency is key in whatever you're doing," she advised students. "Expect that there are going to be a whole lot of no's."
Media studies guest lecturers Tiffany Lynn and Marcus
"IT WAS LIKE ACTING"
Speakers Tiffany Lynn and Marcus appeared on two reality shows. Bringing Up Ballers, a show about Chicago basketball parents and their kids, was their first foray into television. In 2019, the couple appeared on Marriage Rescue, where the infamous host of Bar Rescue leads couples excursions at a tropical resort.
The two shows offered radically different approaches to scripted drama and authenticity. On Bringing Up Ballers, producers stood behind the parents with dry erase boards to prompt them on what to say. The two wished the show had gone beyond manufactured "catfights" for a real look at their son's experience as an athlete.
"It wasn't like being yourself," Tiffany Lynn said. "It was like acting."
On Marriage Rescue, every minute the couple spent together was filmed, so no moving moments would escape the camera. And the two are still together. "If you're going to be involved in a production, make sure it goes right," Marcus advised. "You'll feel rewarded if you pick the right thing."
Media studies guest lecturer Ericka Mauldin Porter
"BE YOUR OWN STAR"
In the documentary-style show This is Life Live, guest speaker Ericka Mauldin Porter hired a private investigator to find her sister, Tiffany. She told the class how it took full days of filming and multiple takes to capture the very real emotions she faced. She met her sister for the first time on live television, before millions of viewers.
Porter is the author of Confessions of a Media Maven; she's frequently worked on the other side of the camera as a casting and talent producer. In the spring, before classes became remote, students lined the classroom for half an hour after her lecture to ask for her advice.
Porter encouraged students who wanted to tell their stories to dive in. "You're in a space right now when technology is available right at your fingertips," she said. "You have a lot available to you to create your own content, be your own star, and be noticed."
ABOUT THE JOURNALISM AND MEDIA STUDIES PROGRAM
The Bachelor's in Journalism and Media Studies degree is a mix of hands-on professional courses and theoretical courses that allows students a choice between two related but distinct concentrations. Students in the media studies concentration gain the objective knowledge, tools and skills to analyze, evaluate and create messages using all forms of media technologies to prepare for graduate study as well as for work in the media industries and careers involving mediated communications. Learn more on the program page.