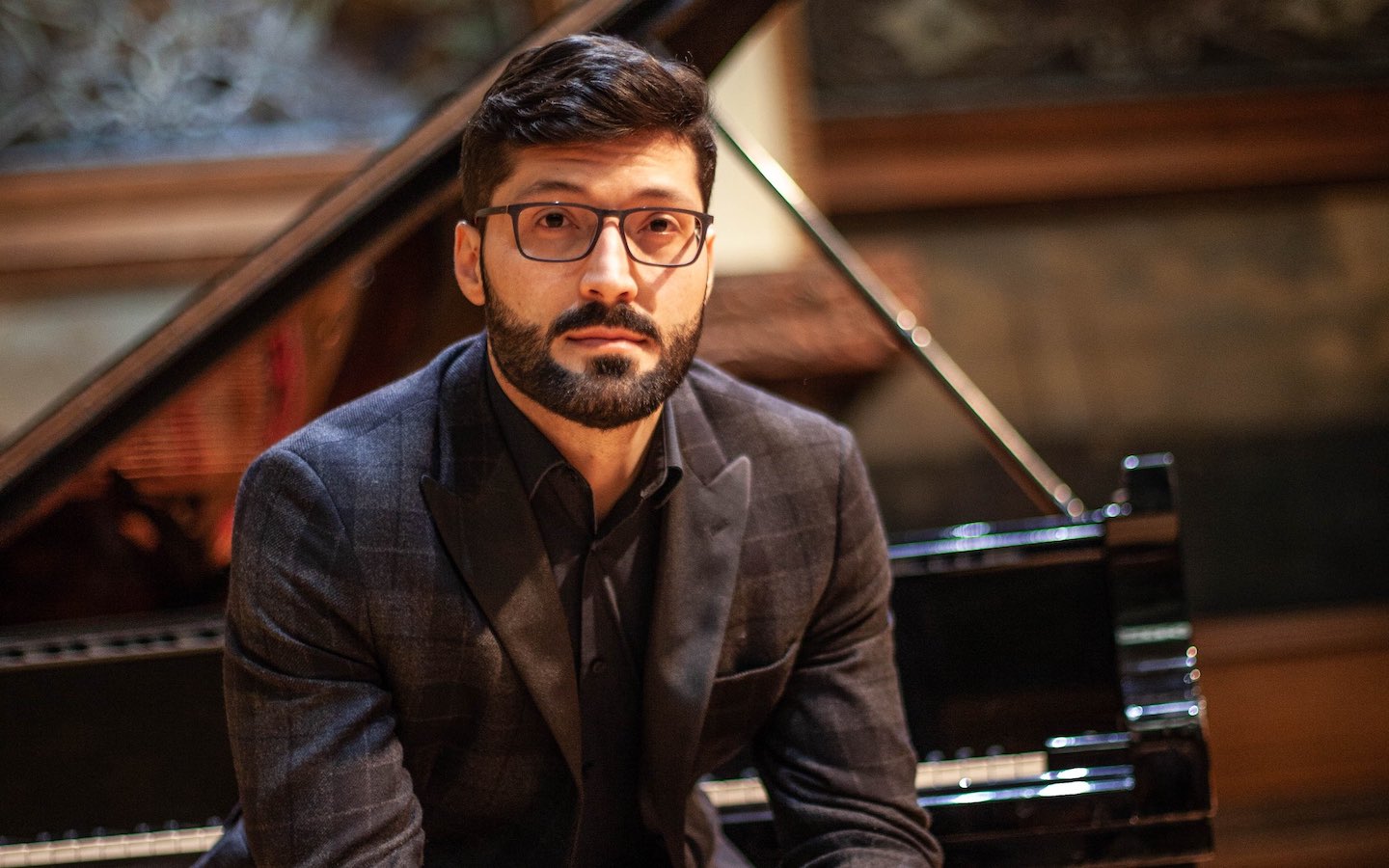 On August 15, at the first concert since the pandemic shut down live performances across the country, Project 88 began its new season with a brass quintet.
The five performers stood alone in Berwyn's Unity Lutheran Church before a Facebook Live audience. More than a thousand viewers from Chicago to Uganda tuned in to hear the free program.
Under the artistic direction of Élider DiPaula (PED Piano Performance, '19), the nonprofit Project 88 presents free classical concerts and teaches students at its music academy.
DiPaula won Roosevelt University's Social Justice Award this spring for his work with the organization. During the pandemic, Project 88 has been forced to reimagine the nature of live performance and how art can connect the community.
A CHANGE IN CAREER AT ROOSEVELT UNIVERSITY
Growing up in Brazil, DiPaula couldn't afford expensive private music lessons. When he was six years old, he happened upon the opportunity to take free lessons at a conservatory. Those free lessons set him on the path to his successful career as a concert pianist.
"Because this conservatory saw beyond my means, I was accepted," DiPaula said. When I became an adult, I decided that I wanted to give back to the community in a similar way."
At James Madison University, DiPaula studied with Dr. Gabriel Dobner, a Chicago College of Performing Arts alum. Dobner had studied there with Ludmila Lazar and encouraged his student to apply.
Although he was accepted at other doctoral programs, he turned them down for Roosevelt's diploma in piano performance program.
"I saw it as an investment in my career, rather than in my education," he said. "Guess what? I hit the jackpot by getting the best of both worlds."
DiPaula said he learned many life lessons from Roosevelt's artist faculty: Dr. Winston Choi, Adam Neiman, Dr. Dana Brown and others, who all treated him like a colleague.
"Roosevelt will give you a way to change your career as an artist because they believe in you," he said. "Faculty and staff were always able to provide guidance in a way that gave me direction, but without suppressing my dreams."
JOINING A LONG LEGACY OF PIANISTS
DiPaula studied under Lazar, who had studied under Rudolph Ganz, who himself had studied under Ferruccio Busoni, who is considered "the true heir of Liszt's legacy." He was part of Dr. Lazar's 50th anniversary celebration of teaching at Roosevelt.
"It was very impactful to learn from Dr. Lazar about Ganz and the influence he had on promoting new music, educating a new audience and creating programs dedicated to children and young people," he said. "All of this helped me shape what Project 88 is today."
DiPaula found himself surrounded by people that shared his passion for social justice. His education sharpened his commitment to celebrating artists often excluded from the industry: LGBTQ+, Latinx and Black performers whose work deserved wider recognition.
ROOSEVELT ALUM ELIDER DIPAULA, SEATED AT THE PIANO IN GANZ HALL.
LAUNCHING HIS OWN NONPROFIT
DiPaula's background at Roosevelt helped him network, find performance opportunities, and gain endorsements from established professionals. He also won a seed grant from the Center for Arts Leadership, which gave the nonprofit its initial funding, and connected with fellow artists and entrepreneurs around the world.
DiPaula conceived of Project 88 as a way to provide the same music education opportunities to all students in Berwyn, regardless of what they could pay. Through the nonprofit, the Roosevelt alum designs programs and concerts, secures guest artists and directs productions. He also coaches and mentors faculty at the music academy, as well as makes connections with other partners, sponsors and donors.
Their True Unity Concert Series hosts guest musicians of all backgrounds.
"The most fulfilling part of my work has been introducing classical music to a community who might otherwise not have had the means to experience it," he said. "I try to offer an opportunity in which they do not only listen to music, but also understand it, including its background as if they were the composer."
At a concert during Project 88's first season, there were more attendees than seats. The crowd overflowed to the back of the venue and stood for the full 90-minute performance. Through Project 88's youth concert series, Into the Musical World, the group has reached nearly 300 local students. Currently, Project 88 Music Academy provides full scholarships to study either violin or piano through a hybrid model of in-person and virtual lessons.
Despite the obstacles to live performance, the goals of Project 88 remain the same: to transform lives through music, to nurture professional opportunities for young artists, and to make classical music accessible to everyone.
"Our work at Project 88 is fully dedicated to bettering the community around us," said DiPaula. "We have reached, and continue to reach, people of all ages, races, ethnicities, cultures and backgrounds and bring them into the same venue to hear performers from around the world."
To view the 2020 season program for Project 88, visit their website at project88berwyn.org.