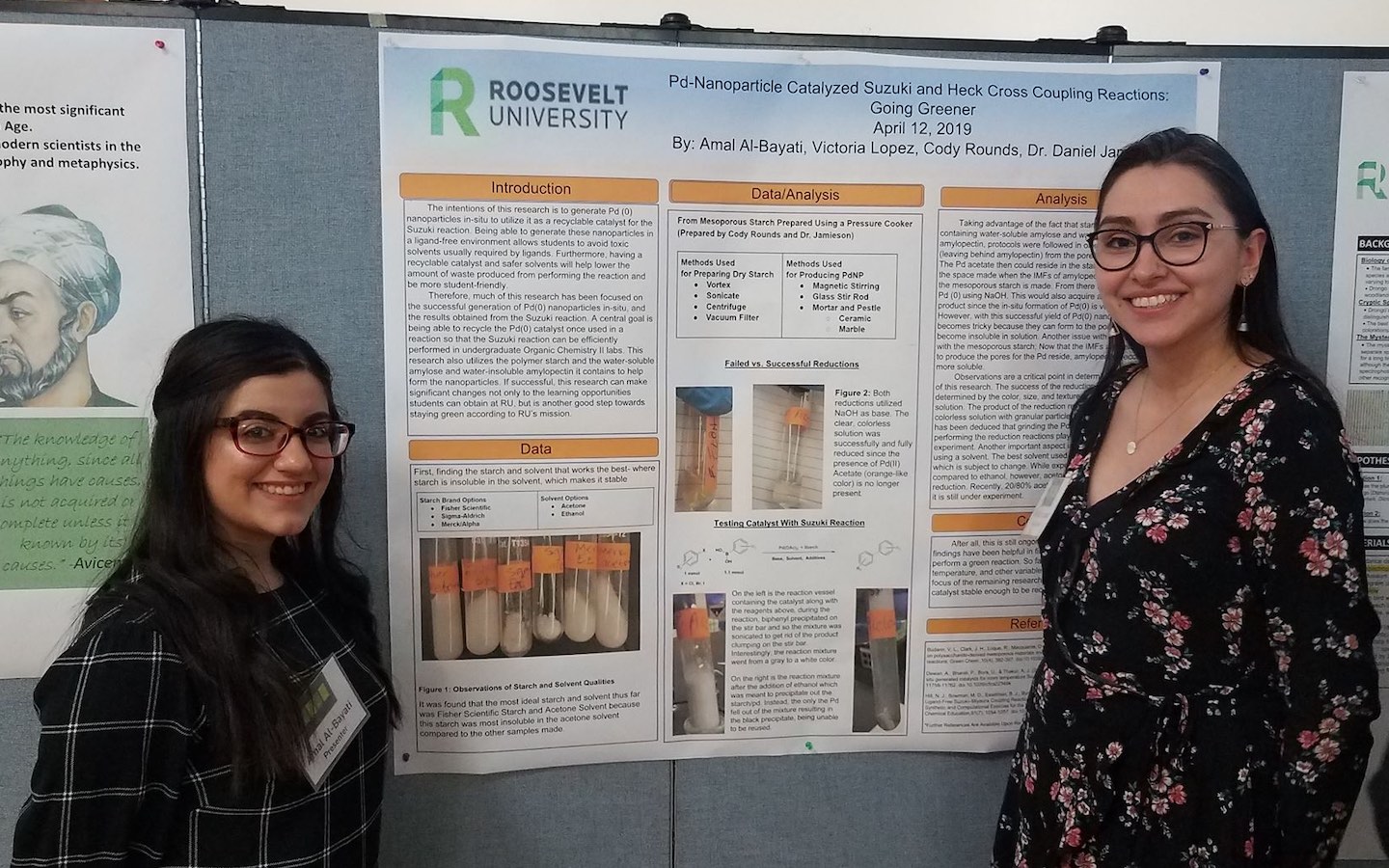 When Victoria Lopez met postdoctoral scholar Chuck Blajszczak through the Roosevelt University Professional Mentoring Program, she was surprised at how much they had in common.
Like her, Chuck was the first in his family to attend college in the United States.
"I always used to question whether I could reach my goal of attending graduate school," said Victoria. Hearing her mentor's experiences, she said, "encouraged me and helped me realize that it is possible to obtain a graduate degree as a first-generation science student."
As a mentee, Victoria is the winner of Roosevelt's 2020 Excellence in Professional Mentoring Award. She is one of more than a hundred Roosevelt students who connect with industry experts through the program each year.
THE IMPACT OF MENTORSHIP
While his father had earned a medical degree in Poland, Victoria's mentor Chuck was the first in his family to navigate American higher education. He earned his PhD in pathology in 2019 and is now an accomplished postdoctoral research scholar at the University of Chicago. He learned about the Professional Mentoring Program through a friend and volunteered.
"As a recent graduate, I felt I had a useful perspective to share with students that were about to begin a similar journey," he said. "I've also been fortunate to have had many mentors who helped guide me to where I am today, and wanted to serve as this for someone else."
Roosevelt mentor-mentee pairs meet for an hour each month to discuss their goals and experiences. Chuck shared stories about his own experiences, guided Victoria through potential career paths in the sciences, and introduced her to other professionals to expand her network.
"After long discussions and advice from my mentor, I got more insight of what graduate school was like and how the programs worked," Victoria said. "This made me feel more comfortable."
Victoria made the most of their time together. In one meeting, Chuck mentioned several internship possibilities in Victoria's field; by the next time they met, she had researched those opportunities and came prepared with a slew of follow-up questions.
With Chuck's encouragement, Victoria applied and was accepted to the McNair Scholars Program, a bridge program that prepares underrepresented students for graduate school. This summer, during the pandemic, she will continue her research project from home with her McNair mentor, Dr. Oluseye Onajole. She is preparing to apply to graduate school with webinars, a summer class — and of course, her professional mentor Chuck.
MAKING PROFESSIONAL (AND PERSONAL) CONNECTIONS
Chuck nominated Victoria for the award to recognize her intrinsic drive and dedication. "Victoria has a strong motivation to succeed in what she does," Chuck said. "Her go-getter attitude and willingness to seek out opportunities make her an attractive candidate for whatever she chooses to do in the future."
As an award winner, she joins Mentor of the Year Jeff Isaac, who serves as chief executive officer of the Boy Scouts of America Pathway to Adventure Council. Watch a brief video about Jeff and his mentor Deriall Reed.
Victoria credits Chuck for helping her gain confidence in her own abilities as a student and aspiring professional. "I think the most excellent thing about a mentor is when they help you help yourself," she said. "Chuck was this person for me."
Through the Roosevelt program, mentors and mentees agree to a year-long partnership. The connections often grow into meaningful relationships that leave a lasting personal and professional impact on both. "I hope Victoria knows that she now has an advocate for her in the field, and that I will be here to support her beyond this year's mentorship," Chuck said.
WANT TO JOIN THE PROFESSIONAL MENTORING PROGRAM?
The program welcomes Roosevelt alumni and experienced professionals with at least five years of experience as mentors. Current students in all six Roosevelt colleges can apply to be matched.
To coach a Roosevelt student, click here. To apply as a mentee, click here.