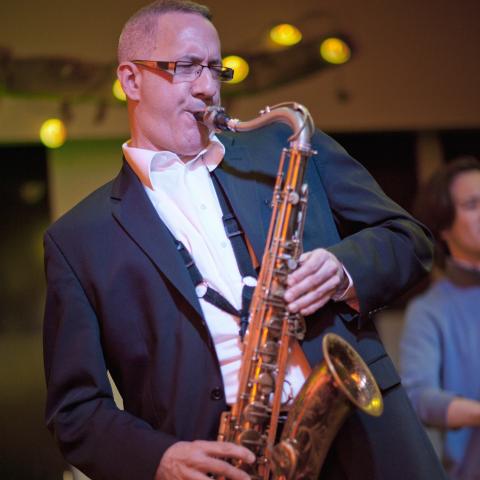 Chicago College of Performing Arts
» Interdisciplinary Studies
» Office of Music Conservatory
About Me
Jim Gailloreto is an accomplished jazz saxophonist, orchestrator, arranger and composer. He has a Bachelors in Music Composition from De Paul University and a Masters in Music Composition from Northwestern University. His jazz style is rooted in a modern post-bop approach.
As a freelance musician he has performed with the Chicago Jazz Ensemble, Chicago Chamber Musicians, Fulcrum Point, Chroma Chamber Orchestra & Chicago Opera Theater. He performed in the Chicago Symphony Orchestra's premier of Marc Anthony Turnage's "Scorched", featuring John Scofield, John Patitucci, and Peter Erskin. He also performed with New York composer/pianist Fred Hersch for the Chicago premier of "Leaves of Grass".
Jim has recorded and performed with notable jazz performers such as Blue Note artist Patricia Barber on "Mythologies", Origin  guitarist John Mc Lean on "Better Angels", pianist Jeremy Kahn on "Most of a Nickel" and vocalist Grazyna Auguscik on "Lulajze". His string quartet arrangements can be heard on Kurt Elling's Grammy award winning CD "Dedicated To You". 
Jim is proud to have performed with pianist Deanna Witkowski  for the 'Women in Jazz Festival' at the Kennedy Center, as well as the Chicago Symphony Orchestra's production of Duke Ellington's Nutcracker Suite under the direction of  Daniel Barenboim.
He is a recipient of the New Works: Creation & Presentation Program Grant from Chamber Music America. He was also recognized in the Jazziz Magazine's "Woodwinds on Fire" jazz select disc.
He has arranged and composed jazz crossover music for his group Jazz String Quintet.  With this unique melding of string quartet and soprano saxophone he has arranged the music of John Coltrane, Wayne Shorter, Miles Davis, Thelonious Monk and many other jazz legends.
Jim Gailloreto has six solo CD's to his credit: "The Insider" (Wide Sound), "Shadow Puppets" and "Jazz String Quintet" (Naim Label), "American Complex" & "The Pythiad" (Origin Classical) and a self-produced CD with his Jazzformation quartet.