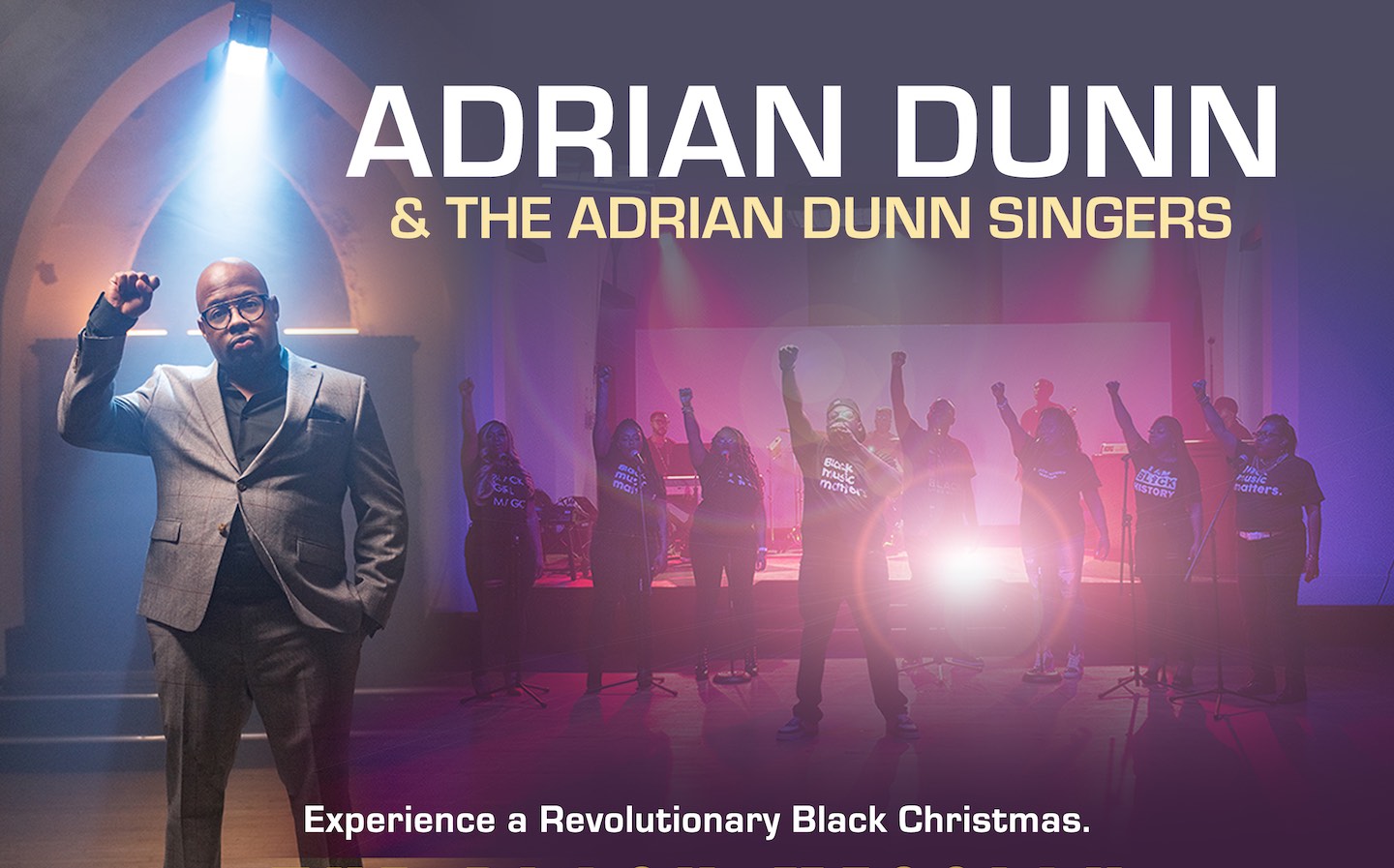 Critically acclaimed multi-genre musical artist and social justice advocate Adrian Dunn (BM '07, MM '10) has released a brand-new concert film, The Black Messiah.
Currently streaming exclusively on the Black Music Experience (BME), this project is a telling of the Christmas story from a modern Black justice perspective. A fusion of gospel, hip hop, jazz and classical genres, this collection of eight songs, all written by Dunn, are meant to challenge, reshape and give the world a new perspective on George Frideric Handel's Messiah.
Dunn is an artist faculty member of the Chicago College of Performing Arts and the advisor for racial equity and minority student success at the Center for Arts Leadership. 
On this project, Dunn is joined by his acclaimed group The Adrian Dunn Singers, an all-Black professional vocal ensemble established in 2018. Featured vocalists include: DarShaya Oden, Erica Renee, LaQuentin Jenkins and rapper/lyricist Tony Famous.
"This year, we cannot tell the same Christmas story and sing the same Christmas songs that are rooted in anti-Blackness and white terrorism," says Dunn. "The Black Messiah is a message of hope, peace, love, righteous anger and the enduring idea of a Messiah who loves, celebrates and will protect at all cost Black life."
As a music and vocal scholar, producer and singer/songwriter, Dunn composed each of the eight songs included on this project. The album was recorded in its entirety in Chicago, Illinois, which is where Dunn and his group are based.
Adrian Dunn has opened for international hip hop recording artist The Roots and performed with the Chicago Symphony Chorus, Grant Park Symphony Chorus, Blossom Festival Chorus, as a soloist with the North Shore Choral Society, in the CCM Spoleto Opera Festival in Spoleto, Italy and is a frequent soloist in Handel's Messiah.
He served as principal vocal coach for Kanye West's artist development program Donda's House, and his private voice students can be seen in Broadway national tours of Lion King, Ghost, Kinky Boots, Rent, BET's show Sunday Best, Drury Lane Theater, The Paramount Theater, Black Ensemble Theater and as background vocalists for major record label artists on tour throughout the United States and abroad.
Black Music Experience (BME) is a for-profit streaming platform created to amplify the narratives of Black musicians, Black culture and justice for Black lives. BME aims to showcase high-quality shows, socially conscious programming, independent films and concerts produced by independent and unique filmmakers, artists and journalists who aim to change the narrative through their stories and truths.
To watch The Black Messiah in its entirety, viewers should visit the Black Music Experience website.