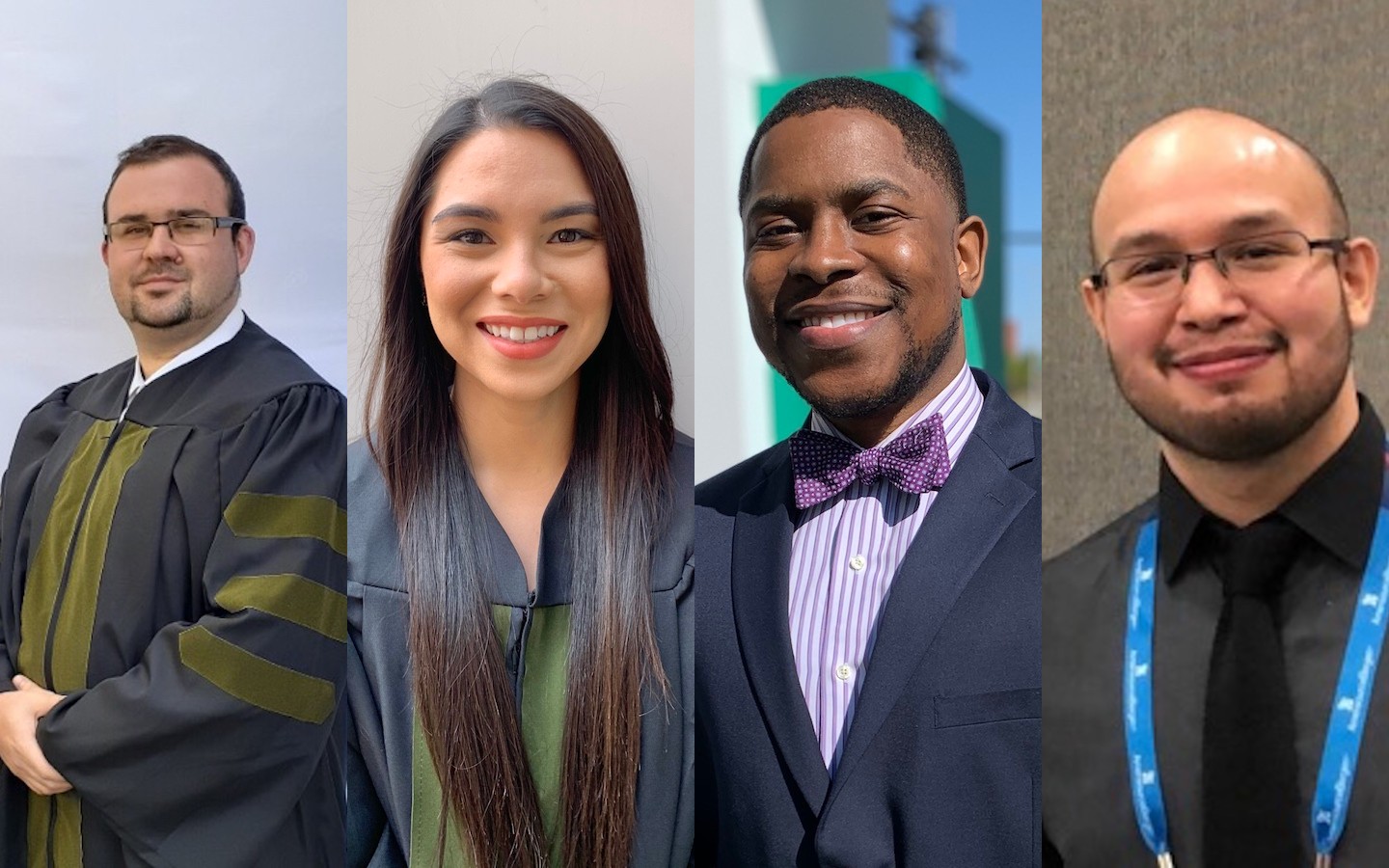 Congratulations to the Class of 2020! To celebrate Commencement, Roosevelt University Doctor of Pharmacy graduates shared their most memorable Roosevelt experiences, future plans.
LIZA KENNY, BS BIOCHEMISTRY '15, PHARMD '20
Favorite memories: Visiting Mary Szuch in Student Services between classes. Mary was always smiling and supportive, especially during a long day. She also had the best snacks!
Proudest accomplishments: Matching to a PGY1 Pharmacy Residency Program at the University of Chicago Medical Center in Hyde Park.
Post-graduation plans: I will start my residency mid-June and, when it is safe to do so, I will be taking a much-needed vacation!
Who do you want to thank? I'd like to thank two of my mentors throughout pharmacy school, Dr. Jason Alegro and Dr. Amanda Bartosik. Each of them has made a significant impact on my education and future career by sharing their knowledge and expertise, encouraging me to consistently strive for better, and providing guidance during residency applications, deadlines and interviews. Lastly, I'd like to thank my family and friends for their endless love and support throughout this rigorous program.
Advice for the Class of 2024: Set high goals for yourself and consistently work toward achieving them.
NATHANIEL S. JOHNSON, PHARMD, '20
Favorite memories: Playing Ping-Pong with my classmates between classes and collaborating amongst one another to find different techniques to learn information.
Proudest accomplishments:
Receiving the Paul and David Goldberg Endowed Scholarship for Ethics Award. This is a very prestigious award within the College of Pharmacy and I am honored that I was chosen as the recipient from the class of 2020.
Organized and coordinated a Pharmacy Informatics presentation that was prepared and presented by the Pharmacy Informatics Team from The University of Chicago Medicine. This was an excellent learning experience for the students and faculty.
Providing mentorship and guidance to underclassmen. It's always an honor to share insight and perspective with fellow learners.
Post-graduation plans: PGY1 Pharmacy Residency training at NorthShore University HealthSystem.
Who do you want to thank? I want to thank my family for their continuous support throughout my educational journey. It has definitely been a long but rewarding road.
Advice for the Class of 2024: Never let self-doubt cloud your abilities, always believe in yourself and find a way to allow your goals to be your daily motivation.  
VICTOR E. SANTIZO, PHARMD '20
Favorite memories: Meeting great colleagues (team structure), networking with different types of pharmacists at local events, being part of PAPA (Polish American Pharmacist Association).
Proudest accomplishments: Organized various events that impacted my organization and the school and graduating.
Post-graduation plans: I intend to pursue residency and possibly PGY2 as well. Eventually I hope to be working as an outpatient pharmacist or transitions of care pharmacist.
Who do you want to thank? I want to thank many staff and colleagues that help me on the throughout my journey. To list a few: Dr. Tomasz Jurga, Dr. Margaret Olson, Dr. Bedrija Nikocevic, Dr. Laura Licari, Dr. Dana Singla, Dr. Alvin Godina and Dr. Jason Alegro.
As for colleagues: Dr. Mateusz Worwa, Dr. Bhavi Patel, Dr. Vildana Golubovic and Dr. Abishek Patel.
Advice for the Class of 2024: No matter how dark or vigorous the topic or subject may be, know with dedication and hard work you can overcome any exam or task. Do not feel you are alone as many professors mention the pharmacy community is very small — we all know each other. This being known, we are all here to help and better one another.
MATEUSZ WORWA, PHARMD '20
Favorite memories: Roosevelt provided me with a lot of great memories. My favorite memories would be the amazing professional organization events and volunteering opportunities that I was able to participate in during my time at Roosevelt University.
Proudest accomplishments: The proudest accomplishment that I achieved at Roosevelt University was being able to present my summer research at the Midyear Pharmacy Conference in California in 2018. As a student, I felt very accomplished being able to present mine and my classmates' hard work in the presence of hundreds of professionals and to answer their questions.
Another great accomplishment that I was able to achieve at Roosevelt was when I was elected the president of the Roosevelt chapter of the Polish American Pharmacist Association (PAPA). On top of that, with the help of an amazing elected board, the organization was able to grow exponentially in members, social events and volunteer opportunities.
Post-graduation plans: My post-graduation plan is to get licensed as soon as possible, complete my PGY1 residency at Wood Dale Option Care and start a fulfilling career in the field of pharmacy.
Who do you want to thank? There are many people that helped me get to the end of my journey at Roosevelt. I would like to thank my family, because they provided me with support throughout my journey and always encouraged me to be the best student I could be. I would also like to thank the faculty at Roosevelt University that provided me with a great education and academic support in all aspects of my journey at Roosevelt.
I would especially like to thank Dr. Abby Kahaleh, as she acted as my unofficial mentor and advisor from the very beginning to the very end of my journey. Lastly, I would like to thank my fellow classmates and graduates for being there for me and with me through all the good times, the bad times and everything in between.
Advice for the Class of 2024: The best advice I can give to the future graduating classes is to enjoy your time and make as many connections as possible. The time you spend at Roosevelt will be challenging at times, so it is very important to enjoy the fun moments and make as many friends and acquaintances as you can.
Making friends at Roosevelt will help you overcome some of these challenges and help you make lifelong friends and people that will be able to help you in the future. The journey in Roosevelt might be challenging and educational, but there will also be opportunities to have fun and relax and get to know your fellow classmates, so don't forget to take advantage of these opportunities as they also help build you into a future graduate.
Join Roosevelt on Friday, June 26 for a special virtual Commencement ceremony to celebrate recent graduates. The Commencement website will go live at 10 a.m. on June 26.