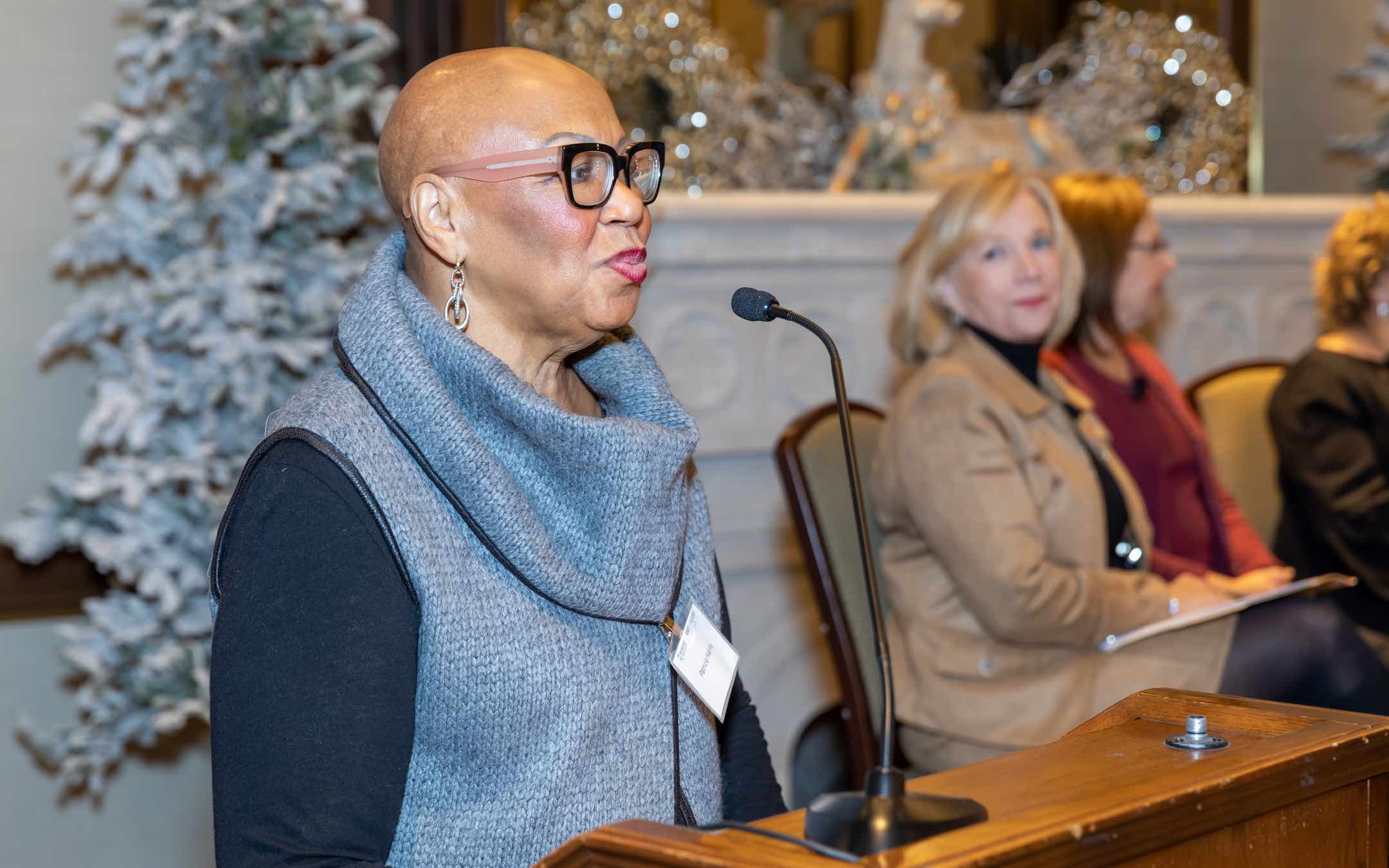 Board of Trustees chair Pat Harris introduces panelists at a recent Women's Leadership Council event.
Patricia Harris began working at McDonald's headquarters while she was a Roosevelt student, rising through the ranks to become global chief diversity officer of the international corporation. Now she hopes to share what she's learned over the course of her career as part of the new Women's Leadership Council at Roosevelt University.
"I became involved with the women's movement early in my career, and it helped me tremendously," said Harris, who serves as chair of Roosevelt's Board of Trustees. She described the WLC as "an opportunity for me to share my experiences and perspectives, and engage and support women at RU."
With an exciting series of events and resources slated for 2020, the Women's Leadership Council aims to build a network of alumnae and friends to help women continue to grow as leaders in their fields.
The WLC was founded in 2019 during a wave of historic gains for women, as leaders set new records for the most women CEOs of Fortune 500companies and most women elected to Congress. But recent accomplishments highlight how much work remains. Only 29% of senior management roles worldwide are held by women, and despite recent highs, less than 7% of Fortune 500 companies are run by women CEOs.
"Women's voices are imperative to organizations' success," said Roosevelt trustee Ann Ford. "When women are more successful, everyone will be more successful, whether the goal is profit or is mission driven."
Paula Brown, Jan Fields and Donna Coaxum at a Women's Leadership Conference event
The Council, rooted in Roosevelt's tradition of social justice, hopes to create a platform for a more equitable Chicago. "Including current and future women leaders of all ages, abilities, races and ethnicities in the social justice conversation and all other important social and financial dialogues will be key to truly achieving inclusion and diversity in the workplace and in politics/government," said Ford.
In December, Roosevelt alumnae and friends gathered for the WLC's second event at the University Club of Chicago. The "Survival to Empowerment" panel, moderated by former McDonald's USA president Jan Fields, explored what leadership will look like in the years to come. 
Presenters included Melissa Bean (BA '02), president of Mesirow Financial Wealth Advisors; Connie Lindsey, executive vice president and head of corporate social responsibility at Northern Trust; Sylvia Puente, executive director of the Latino Policy Forum; and Gloria Santona, of counsel at Baker & McKenzie. Attendees also generously donated to the Roosevelt Career Closet, an on-campus resource that gives students access to business attire for work, interviews, and networking events.
"Women leaders offer a perspective that's needed to help corporations and nonprofits grow and prosper," said Harris. "We want to help empower women at RU so they will become great leaders. They can then mentor other women throughout the University."