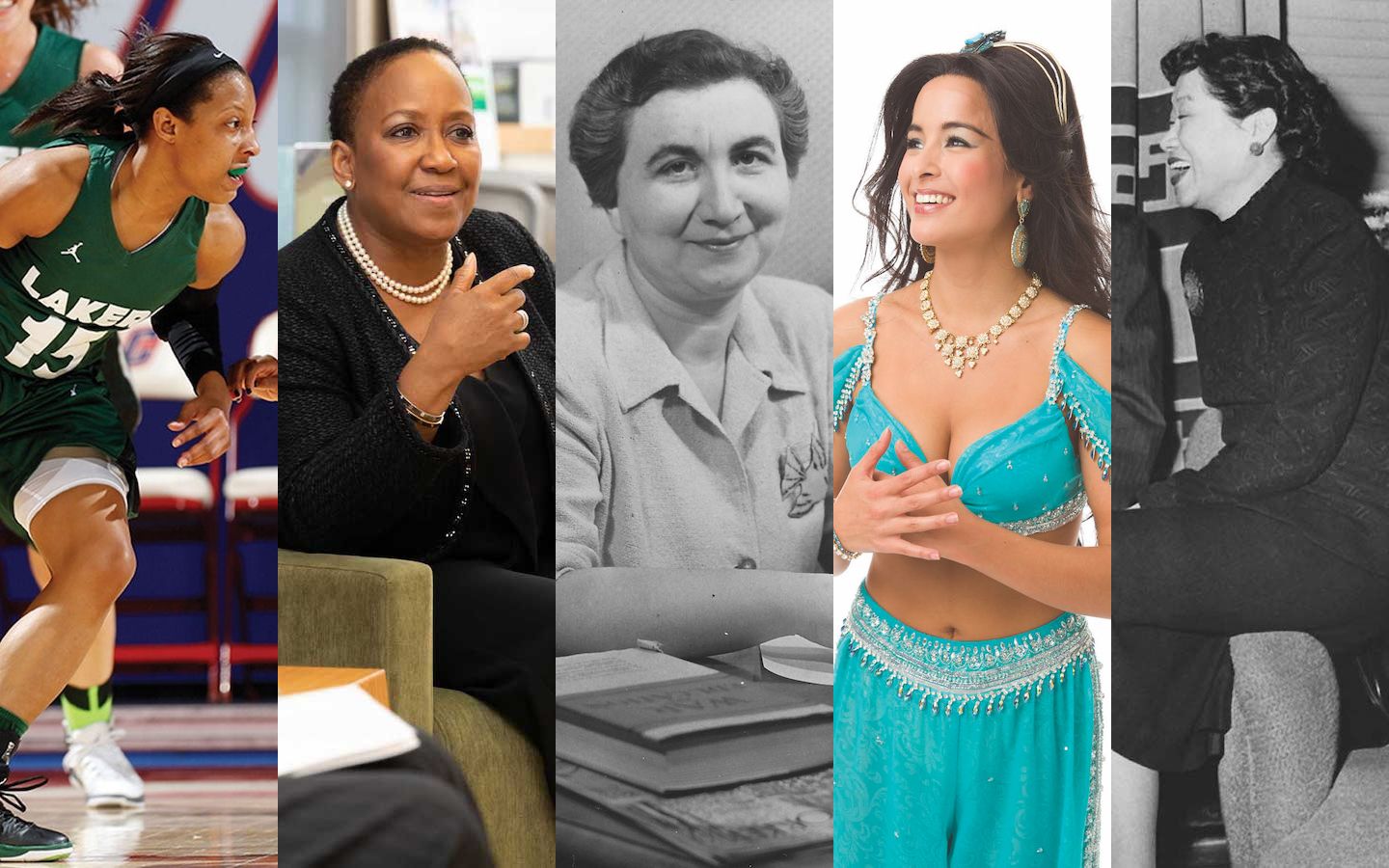 Remarkable women have been part of Roosevelt University since its founding in 1945, starting with the first advisory board chair, Eleanor Roosevelt. In the years since, Roosevelt has counted many extraordinary women among its students, staff, trustees and friends
Meet some of the women who left their mark on Roosevelt University.
A modern dance and choreography pioneer, Sybil Shearer came to Chicago after her 1941 debut at Carnegie Hall. She taught as a dance professor first at the YMCA College and then Roosevelt College from 1945 to 1951. She has been described as "original, provocative, unpredictable, a maverick, a poet of movement, a near legendary figure and a gentle rebel."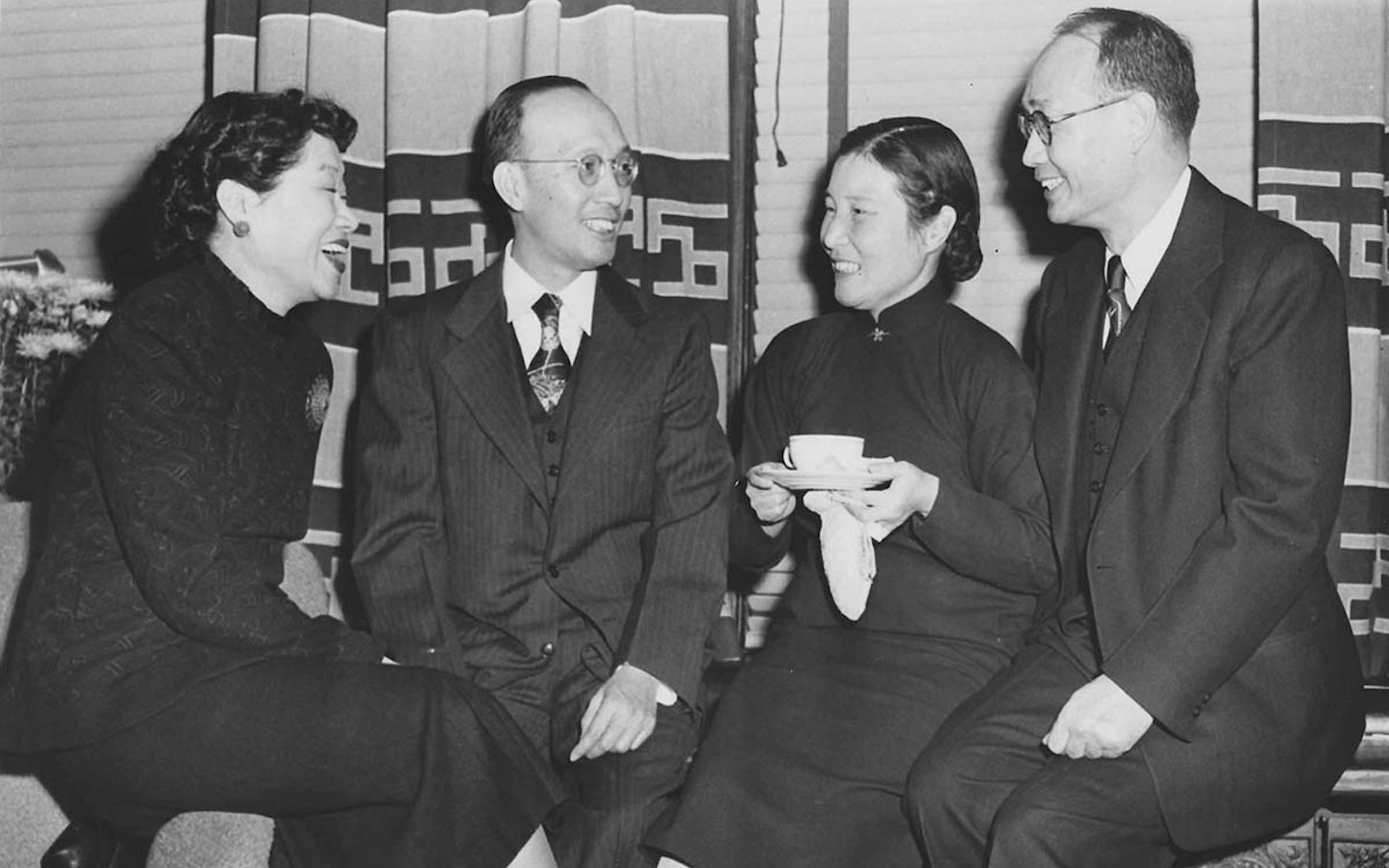 Professor Rose Hum Lee (left)
When Rose Hum Lee was appointed chair of the sociology department in 1956, she became the first Chinese American to lead a university academic department in the country. Lee wrote journal articles and textbooks about Chinese immigration and assimilation, urban studies, comparative social welfare and art.
Frances Horwich taught early childhood education from 1946 to 1952. Horwich is most known for her role as "Miss Frances," host of the Ding Dong School, one of the earliest preschool TV programs in the world. Horwich invented the technique of speaking to the audience as if they were in the same room, a style later adopted by Fred Rogers and the cast of Sesame Street.
Betty Balanoff (MA History, '63) taught history to Roosevelt students for 25 years. Her lasting legacy is the Labor Oral History Project, a collection of over 60 interviews with union members in the Roosevelt archives. Balanoff conducted the interviews from 1970 to 1985.
At a time when the industry was dominated by men, Goldie Wolfe Miller (BS '67) ran the largest woman-owned commercial brokerage in the country. In 2007, she created the Goldie B. Wolfe Miller Women Leaders in Real Estate Initiative. The program, which started at Roosevelt, now extends to graduate students across the Midwest.
Carla Hayden (BA Political Science, '73) led community libraries in Chicago, Baltimore and Washington, DC before becoming the 14th Head Librarian of Congress. She is the first African American and first woman to serve in the role.
Read more about Hayden in the Roosevelt Review.
Karen Gibbs (BSBA '76) was the first woman to work on the floor of the Chicago Board of Trade. She began her career there as a board marker and left as a member of the Office of Investigations and Audits. Gibbs has worked as an anchor and financial news reporter for CNBC, PBS and Fox News.
Danitra Vance (BA Theater, '77) was classically trained in acting at the Chicago College of Performing Arts. In the 1980s, she became the first African American woman to appear in Saturday Night Live's main cast. She is remembered for breaking barriers in theatre, from Chicago to New York to London.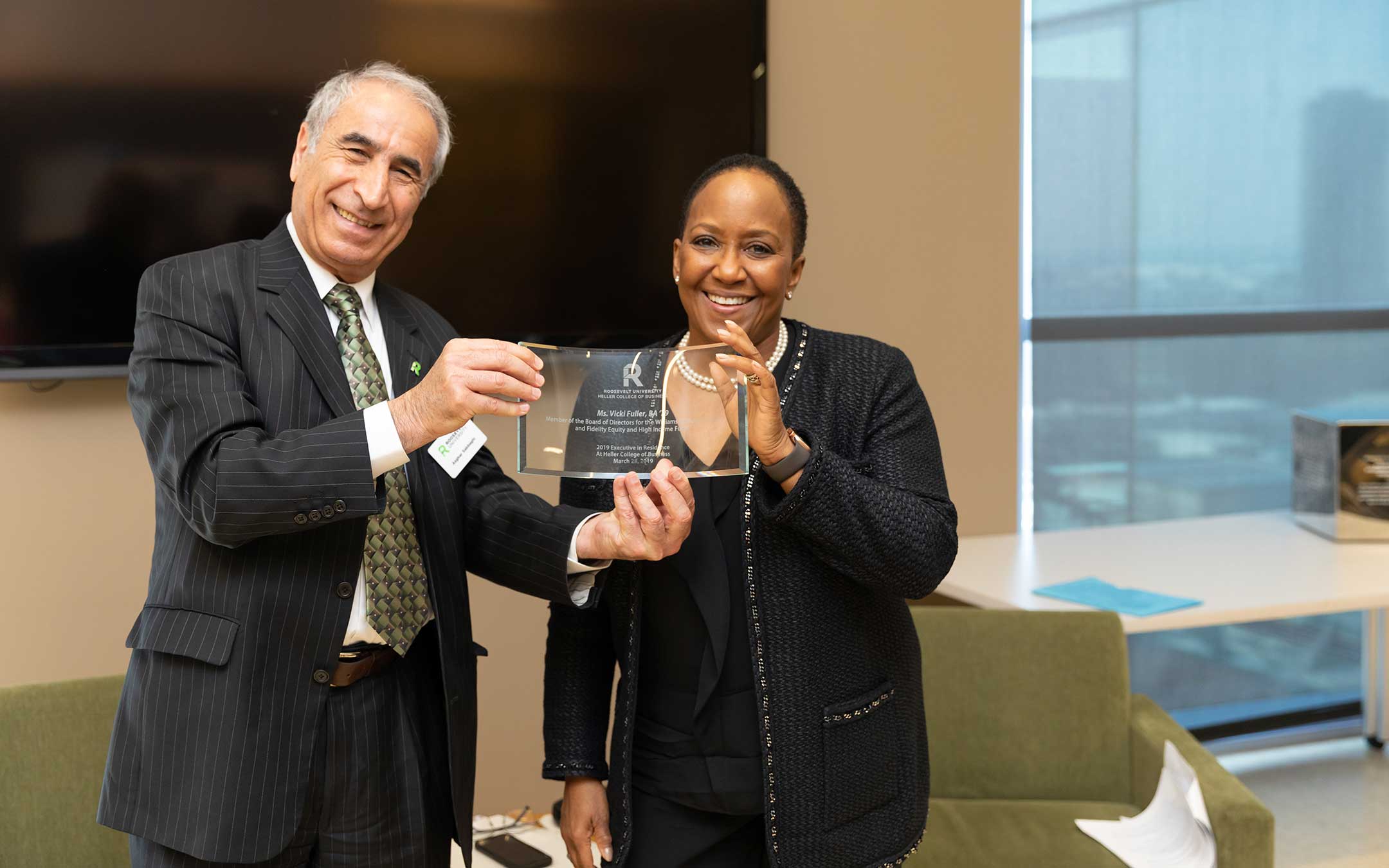 Heller College of Business Dean Asghar Sabbaghi presents an award to Roosevelt University's 2019 Executive-in-Residence Vicki Fuller
By the time Vicki Fuller (BSBA '79) left her position as Chief Investment Officer of the New York State Common Retirement Fund, she grew it to $207.4 billion in assets. She credited her studies at Roosevelt University as the foundation for her career.
As global chief diversity officer, Patricia Harris (BGS '80) developed diversity and inclusion strategies for McDonald's workforce around the world. The company earned recognition from Fortune and many other publications for its commitment to diversity.
Harris is the chair of the Roosevelt University Board of Trustees. Hear more about her journey on the University podcast.
At age 91, Myrtle Shannon (BGS History, '96) was Roosevelt's oldest graduate. Shannon's grandfather had been enslaved; after the Civil War, he earned his education and returned to Mississippi to become a teacher. "He always taught us: Get as much education as you can," Myrtle recalled.
Merle Dandridge (BFA Musical Theatre, '98) is the star of Oprah Winfrey Network's Greenleaf. She began her acting career with leading roles on Broadway in Spamalot, Rent, Aida, Tarzan and Jesus Christ Superstar.
Melissa Bean (BA Political Science, '02) represented Illinois' Eighth District in the U.S. House of Representatives from 2005 to 2011. She is the current president and CEO of Mesirow Wealth Management. As an advisory board member of the Women's Leadership Council, she's building a new space for women leaders to work together.
Courtney Reed (BFA Musical Theatre, '06) starred as Jasmine in Aladdin, which debuted at the New Amsterdam Theatre. "To have the experience of playing a leading lady on Broadway is a dream come true for me," she said.
Led by Casey Davis' All-American showing, the 2013 women's basketball team won Roosevelt's first conference championship. The Lakers clinched the title on the last day of the regular season in a dramatic overtime victory.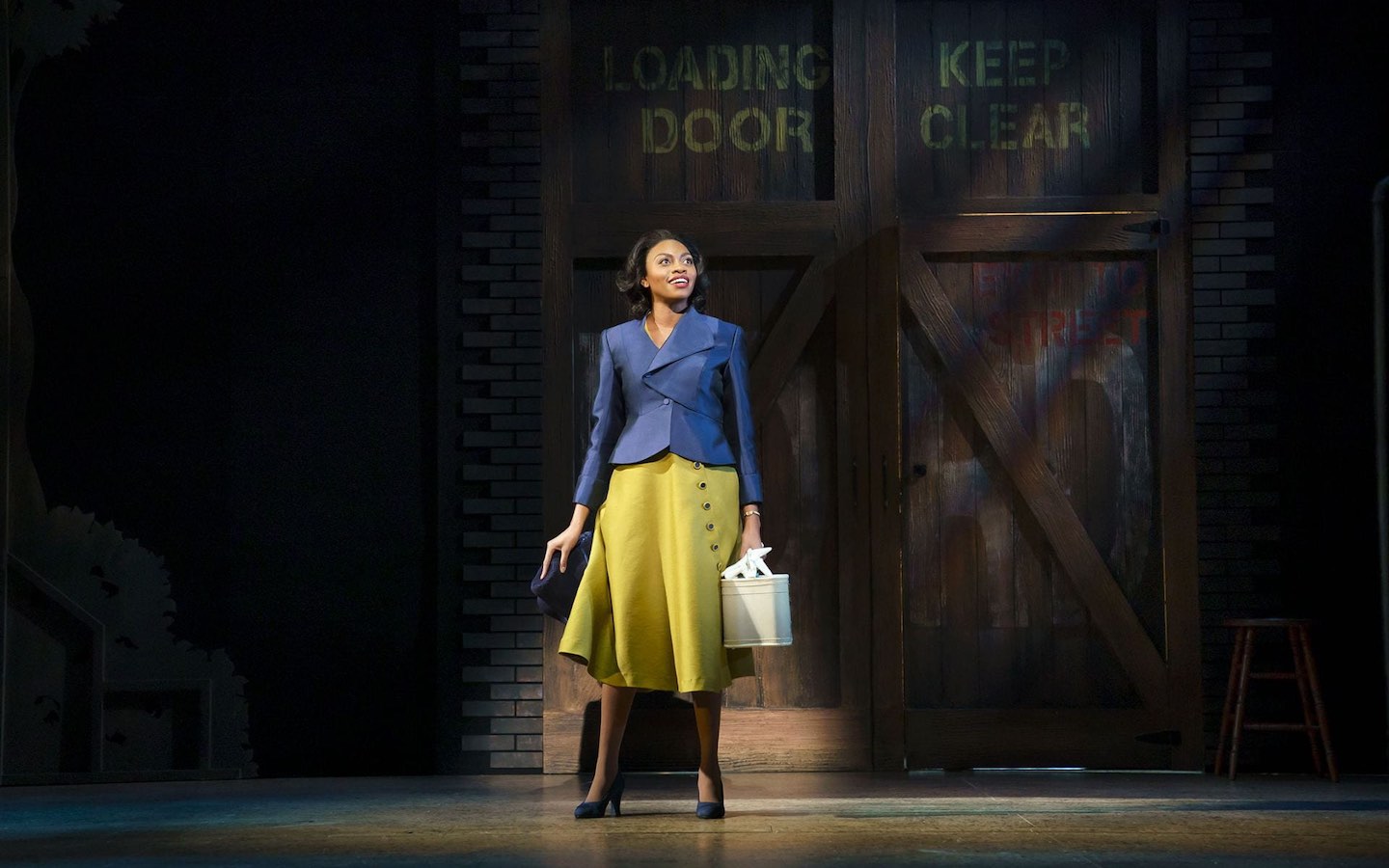 Alumna Adrienne Walker in Kiss Me, Kate
Adrienne Walker (MM Vocal Performance, '11) starred on Broadway as Nala in Disney's The Lion King. In 2019, she took on the role of Hattie in the Tony-nominated Broadway revival of Kiss Me, Kate.
Mirena Fontana (BPS '12) began her career at Romanucci & Blandin as an intern while earning her  degree and parenting three small children. Today the senior paralegal works on cases that involve police misconduct, civil rights actions and other personal injuries. She helped fortify the case in the civil suit for George Floyd's family.
Dr. Shelly Davis-Jones (EdD '13) is the superintendent of Dolton School District 149, a school district with about 2,700 students. In Illinois, women make up 78% of public school educators, but only 28% of superintendents. Davis-Jones is determined to change that by creating new pathways for students and educators.
As co-chair of the Coalition to Ban Petcoke, Gina Ramirez (MA Sociology, '14) spoke with aldermen and senators to fight for crucial environmental protections. Their protests triggered EPA investigations and the removal of dangerous petcoke piles from the Southeast Side.
Updated February 23, 2021. The original version of this story was written by history professor emerita Lynn Weiner.