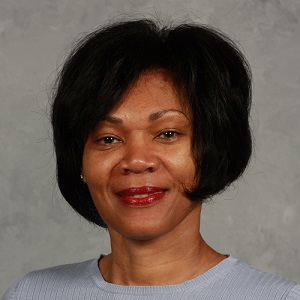 Coming from the inner city, raised by a single mother with a high school education, Carolyn Jones (BSBA '00, MBA '02) says, "Roosevelt taught me how to live, engage and navigate the complexities of life." And since graduating, Carolyn has dedicated her life to doing the same for others — establishing an impressive career in public service and helping those in need.
Today, Carolyn serves as a senior policy advisor on the youth policy team for the Office of Disability Employment Policy (ODEP), a division of the U.S. Department of Labor. In this role, she provides expert policy and program analysis and recommendations in support of competitive employment for youth and young adults with disabilities.
Prior to joining ODEP, Carolyn was the division chief of the One-Stop Workforce Development Center in Alexandria, Virginia. The Center focuses on the integration of workforce systems, capacity building, and seamless service delivery to advance greater employment opportunities. It facilitated collaboration and program alignment for the Workforce Innovation and Opportunity Act, public benefits systems such as TANF, SNAP, Medicaid and childcare, as well as other employment initiatives in Alexandria.
Carolyn also spent time serving the Chicago community as assistant commissioner of the Chicago Mayor's Office for People with Disabilities. She helped develop Chicago's 2016 Olympic and Paralympic bids, administered appeals for reasonable accommodations for city employees, and spearheaded youth employment initiatives for youth with disabilities. She also managed the certification process for business enterprises owned and operated by people with disabilities, and provided technical assistance on the Americans with Disabilities Act. Carolyn began her career in the disability field by serving as program director for Thresholds Psychiatric Rehabilitation Centers in Chicago. She led the development and execution of strategies for sustainable employment placement and retention for adults with mental health disabilities.
In addition to receiving her bachelor's and master's degrees from Roosevelt, she has gained professional certifications in workforce development, diversity and inclusion, and veteran employment and recruitment. Carolyn has also published blogs for the Department of Labor: "Innovating in Apprenticeship" and "Apprenticeship and the American Dream."
HOW ROOSEVELT PREPARED HER TO SUCCEED BEYOND THE UNIVERSITY
Roosevelt prepared me to be future-focused and helped me develop essential workplace skills.
Collaborative courses taught me the importance of working in a team environment and allowed me to lead several projects — together these strengthened my analytical, quantitative and communication skills. I also found myself facing my fear of public speaking. Overall, I gained confidence and grew to understand the importance of flexibility and adaptability.
Personally, Roosevelt taught me the importance of financial health and to care about my own financial future. This was achieved through studying statistics, bonds and mutual funds.
HOW THE UNIVERSITY'S SOCIAL JUSTICE MISSION AND DEDICATED FACULTY INFLUENCED HER
The University's inclusive and diverse community mattered to me and drove me to complete both my undergraduate and graduate studies at Roosevelt. I saw people who looked like me in the classroom — students, faculty and staff from varied racial, gender, socioeconomic and religious backgrounds, as well as sexual orientation and abilities.
My statistics teacher was highly influential in my life. He taught me that there was a way out of poverty. He gave me the map. The onus was on me to study it!
HER ADVICE TO PROSPECTIVE AND CURRENT STUDENTS
Don't be afraid. Don't give up. And know that it is okay to ask for help.
A FUN FACT SHE WOULD LIKE OTHERS TO KNOW ABOUT HER
I worked with Chicago's homeless community in the late 90s to assist newspaper vendors in selling StreetWise on the streets of Chicago.