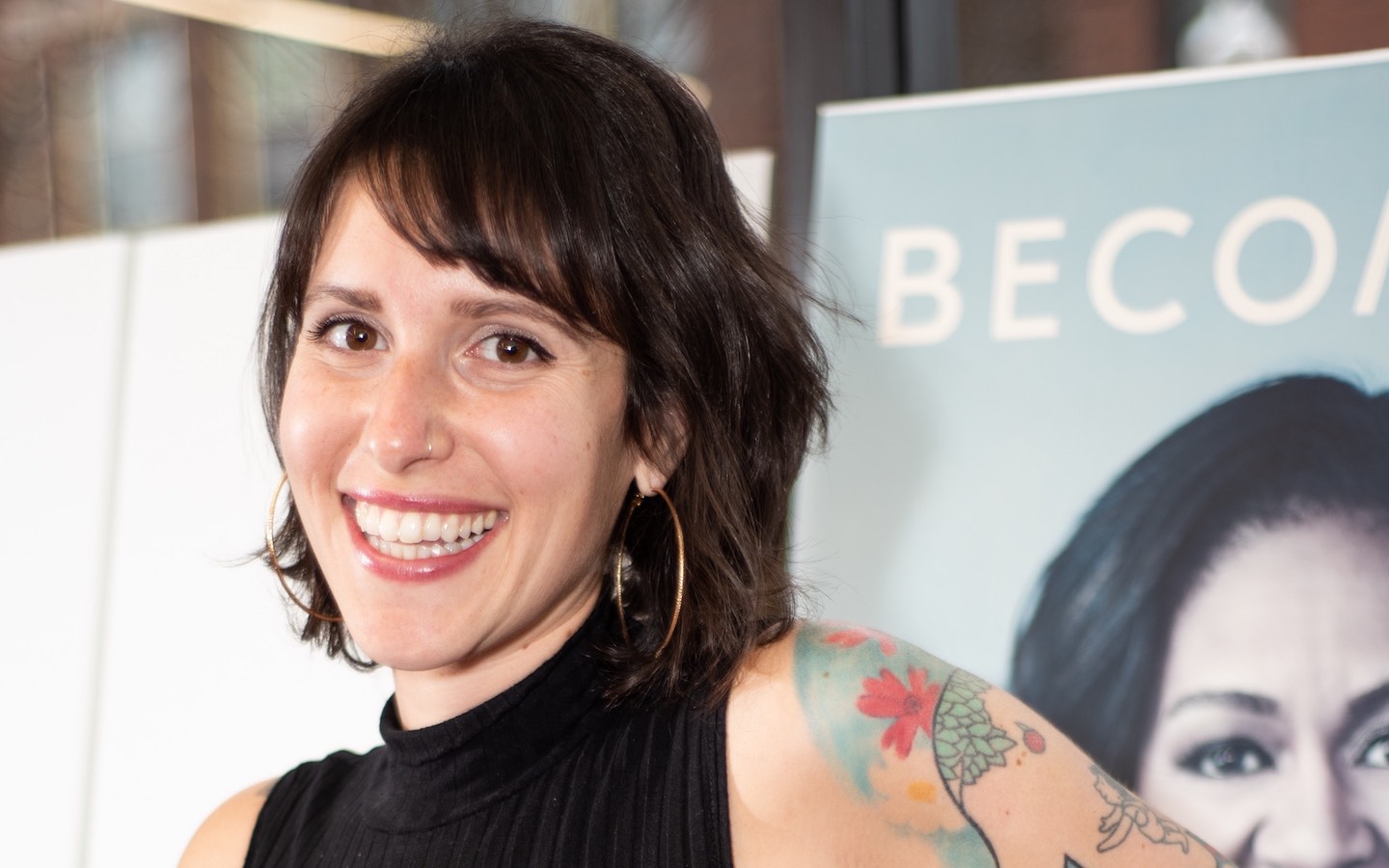 In a recent Mission Propelle class on Zoom, 30 girls planted their feet and stretched into Warrior One yoga poses. "Go ahead and kiss those muscles," the instructor said, and kissed her biceps three times. "Say: I am strong!" The girls extended their arms and repeated after the instructor — I am smart! I am kind! — before finally stretching into a star pose.
Under the stay-at-home order, Mission Propelle classes look a little different than when they could be held in person. Guided yoga classes and readings take place online. Students follow yoga moves in a chaotic whirl of activity and type their responses to questions. Mission Propelle participants seem excited to get up and move, to have an outlet to share their feelings after weeks trapped inside.
Annie Warshaw, the founder and CEO of Mission Propelle,  has built her career around ending the patriarchy: she's taught women's history to second graders, volunteered on political campaigns and today teaches women's and gender studies at Roosevelt University. In 2013, she founded Mission Propelle to empower girls to be classroom leaders and teach boys to be gender allies.
To date, Mission Propelle programs have reached more than 10,000 students and distributed more than 35,000 original storybooks. Classes remain pay-what-you-can.
"Without question, Annie's endeavors have all been premised upon a desire to enact social justice, whether in the classroom, in her volunteer work or in her business," said Roosevelt history professor Sandra Frink. "She has the empathy, compassion and patience to help young people find their own voice and embark on their own path towards a more fair, inclusive and equitable future."
THE LANGUAGE OF GENDER
Warshaw grew up in an abusive household and recognized early on that that the world was not inherently fair.
"Children understand unfairness at their core," she said. "Ask any three-year-old about fairness and they can tell you what is right and wrong. Adults tend to believe children do not have the capacity to understand complex concepts, but they do, oftentimes better than we do."
Warshaw still remembers the power she felt as an undergraduate in women and gender studies courses, where she learned the language to describe the power imbalances she saw and experienced in everyday life. She wants her students — through Mission Propelle and at Roosevelt — to have the same sense of strength and empowerment.
Today Mission Propelle sessions combine age-appropriate yoga with guided readings from original storybooks about gender equity. The stories follow a diverse cast of female leaders and family structures, allowing students to discuss how they would feel or problem-solve in a given situation.
"Through Mission Propelle, students have gained the tools to advocate for their needs and recognize injustice," Warshaw said. "They have the vocabulary to fight gender inequity and the skills to problem-solve with their peers."
FROM HISTORY STUDENT TO ENTREPRENEUR
When Warshaw was applying to master's in history programs, she looked for universities where she could get one-on-one attention from faculty and build closer relationships. She was also attracted to Roosevelt's social justice mission.
As a student, she got involved with Feminists United, Roosevelt's Organization of the Year in 2008–09. Her history course work also honed her critical-thinking skills: she learned to look for what was missing in a text, analyze the gap and offer a new perspective.
This skill set would come to set her apart as an entrepreneur. After graduation, she taught at two under-resourced charter schools on Chicago's South Side. She noticed a gap — there were no girl empowerment programs that targeted younger students. Warshaw began designing a curriculum to give girls the tools to think about gender equity and create change in their own communities.
"As a small-business owner, I am constantly challenged to look for solutions that do not exist yet," she said. "I wanted to be proactive and created something that would work with the mindset of prevention."
When Mission Propelle launched in 2013, Warshw hoped to bring programs to 10 local schools. Today the organization has reached more than 100 schools and thousands of students across the Chicago area.
"A liberal arts degree will give you the skills you need to succeed in any industry," she said. "The ability to analyze content and manage your time will take you far. You do not need to major in something 'practical.'"
TEACHING GENDER JUSTICE
While running Mission Propelle, Warshaw also teaches gender justice at Roosevelt University. She challenges her students to connect the abstract theory they cover in class to real-world action.
"It is impossible to put into words how great of an impact she has had on our students,"  Frink said. "She is indefatigable, challenging and motivating our students to not only reconsider their assumptions about issues of gender and power, but also to make a difference outside of the classroom."
Warshaw's students have created intersectional programming on campus, organized voter registration campaigns, hosted food and toiletry drives for women's shelters, and raised awareness and funds around gender equity issues. All of her students are required to vote.
"When students tell me, 'You have completely changed my view of the world, thanks for changing my life,' I melt inside every time," she said. "I feel like I am accomplishing what I have set out to do."