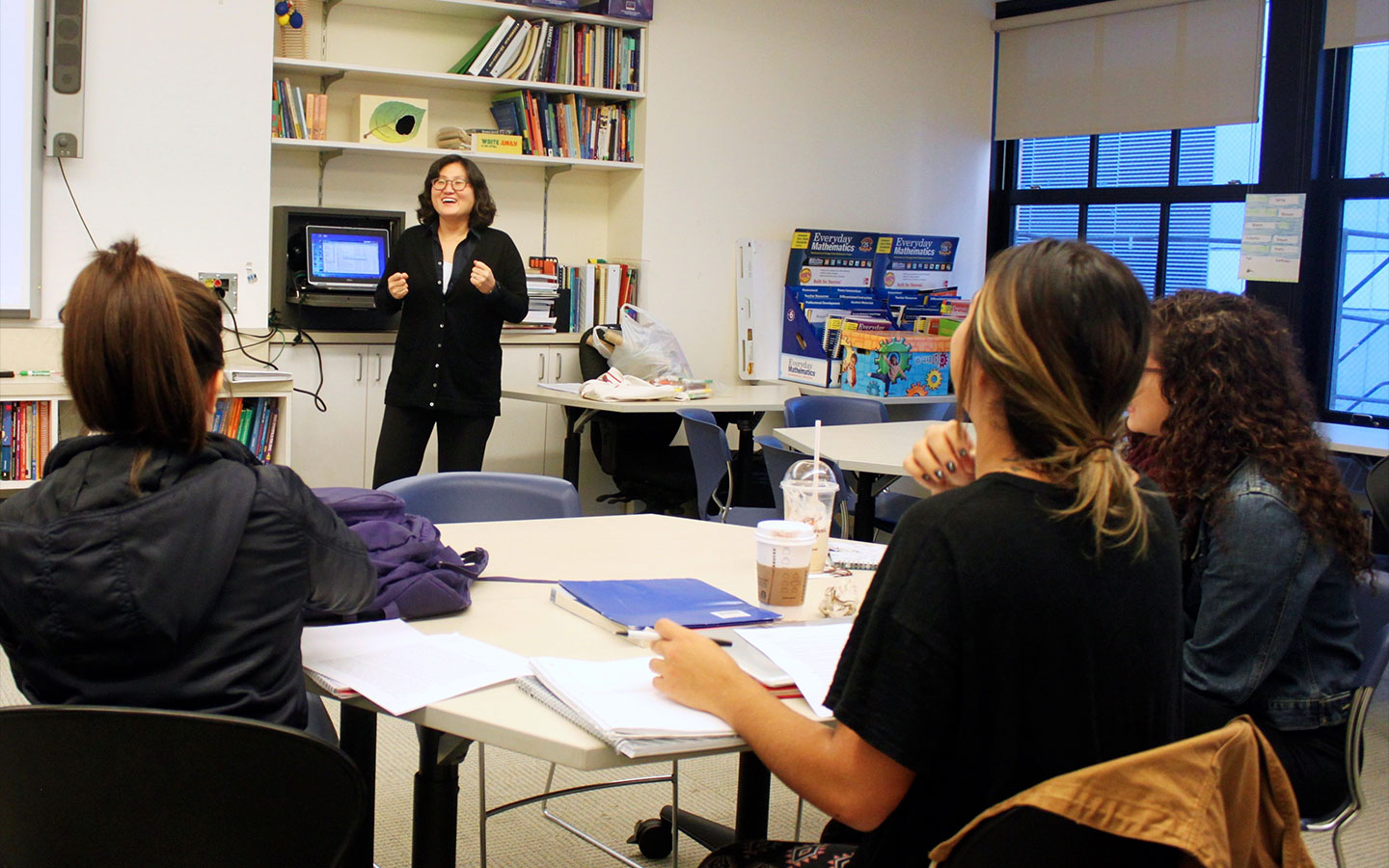 Jin-Ah Kim, Roosevelt University associate professor of early childhood education, writes about the ripple effect of teaching social justice.
As a young girl in South Korea, I believed that making small ripples of change could encourage bigger ripples, which could turn into a wave that helps change society. But I never thought that my part in making that change would involve living in the United States and being an education professor.
When I was a child and met Americans visiting my country, they were very intimidating to me. I perceived them as tall, skinny men with large noses. I was afraid of these Americans, and when they would try to talk to me, I would run and hide.
But when I got older, I decided to pursue my education in the United States. I had read about constructivism and other educational movements and wanted to witness them for myself. Originally, I wanted to gain this education so I could go home and make a difference in the Korean educational system. But it has turned out differently; my "small ripples" can make a big wave here.
The stereotypical images of Americans that I learned in my culture were proven false by the Americans I got to know. At the same time, I learned what it's like to be discriminated against as an Asian woman. Those experiences taught me to fight injustice and dedicate my time to making a better life for children.
The best way to do that, I realized, was to train tomorrow's teachers. I am now an assistant professor of early childhood education at Roosevelt. I know that if I can influence 10 future teachers a year, and they can then influence hundreds of children, I will feel that I have made a difference.
Those experiences taught me to fight injustice and dedicate my time to making a better life for children.
—Professor Jin-Ah Kim
My students are going to be social justice change agents. Early childhood teachers are the first educators in children's lives who help them navigate the future and advocate for them in cases of injustice. It's imperative that they learn about social justice, multiculturalism and anti-bias curriculum, which is an approach that respects and embraces differences — something I care deeply about given my own experiences.
It is a privilege to teach these students how to be the change agents they're meant to become. My goal is to instill these values and skills in my students so they practice them automatically as teachers.
One summer, I had the chance to teach child care teachers who work with infants, toddlers and preschoolers. I created a credential program to improve their teaching, and 23 teachers were selected to participate. While they learned new teaching skills, I learned about their work: how they engage families, fight for government assistance on behalf of their students and form supportive environments for children.
Knowledge is a bottomless gift; training these teachers taught me things I can bring back to my classroom and my students at Roosevelt. My students, in turn, will bring the lessons of their education to future generations. I take great pride in the ripple effect of my teaching.
BA or MA in Early Childhood Education
In this intensive, field-based program, you'll prepare to work democratically with diverse children and families, including those with special needs and second language backgrounds. You'll be prepared to earn a combination of Illinois teaching credentials. Explore the program.