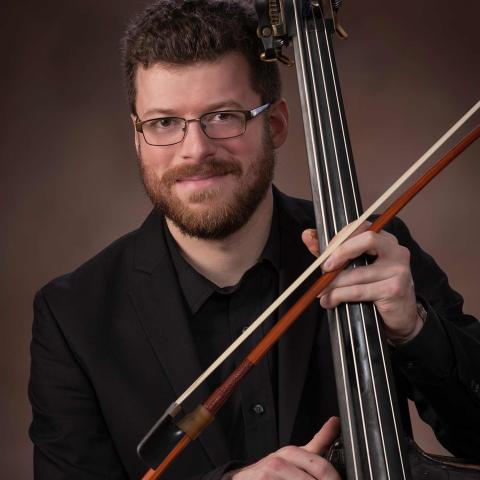 Chicago College of Performing Arts
» Office of Music Conservatory
About Me
Jon McCullough-Benner began teaching as Artist-Faculty for the Chicago-College of Performing Arts at Roosevelt University in the fall of 2017. In addition to teaching applied lessons, he also has taught studio based classes and an orchestral repertoire class. In addition to his teaching at Roosevelt, Prof. McCullough-Benner has taught masterclasses at the University of Oregon and has guest taught at Indiana University.
Prof. McCullough-Benner started his studies on the Double Bass with John Toedtman and Mark Barnard, before beginning studying with Cincinnati Symphony Principal Bass Owen Lee. After establishing himself as a teacher and performer in southwest Ohio, Prof.
McCullough-Benner began his collegiate studies with Albert Laszlo at University of Cincinnati's College-Conservatory of Music. Upon Graduating Summa Cum Laude, he began studying at Indiana University's Jacobs School of Music with Bruce Bransby, former Principal Bass of the Los Angeles Philharmonic.
In March 2015, Prof. McCullough-Benner was offered the position of Principal Bass with the Oregon Symphony. In 2016, he began playing with the Grant Park Music Festival, and was also offered the position of Principal Bass of the Milwaukee Symphony, where has been performing since 2017.
A strong supporter of the fundamentals, Prof. McCullough-Benner aims to give his students a strong foundation for his students to launch from. Especially when it comes to preparing for performances, he ensures that every student has a strong understanding of how to best prepare and make sure that the performance, be it an audition or recital, will be successful. Being able to play the bass is important, of course, but being able to perform at maximum potential is just as important for any student looking to pursue a performing career on the bass.
Prof. McCullough-Benner has many successful students, some of whom have performed with the Chicago Symphony, St. Louis Symphony, Milwaukee Symphony, Buffalo Philharmonic, and Elgin Symphony, among others.