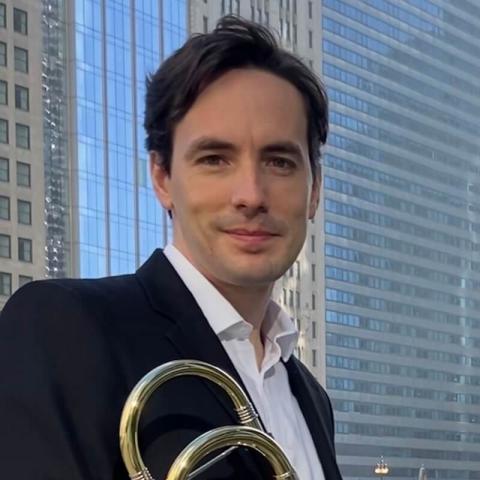 Ignacio del Rey Tomas-Biosca
Chicago College of Performing Arts
» Music Conservatory
About Me
Ignacio del Rey began his musical studies in 1997. He received both his Master of Music in Trombone Performance and his Professional Diploma in Orchestral Studies from the Chicago College of Performing Arts of Roosevelt University, where he studied with Jay Friedman (Chicago Symphony Orchestra Principal Trombone) and Reed Capshaw (Elgin Symphony Orchestra Principal Trombone).
Previously, he studied at the Higher Conservatory of Music in Salamanca under Professor Rubén Prades, obtaining a Bachelor ´s degree in Music Performance (Trombone) and being awarded an Honorable Mention in the End of Degree Exam. In June 2010, he was admitted to the Barenboim-Said Academy of Orchestral Studies in the studio of Professor Martin Reinhardt and Professor Tomer Maschkowski. In addition, he had the privilege to study privately with Francisco J. Rosario Vega (Principal Trombone of Royal Symphony Orchestra of Seville, Spain).
Since 2015, he has frequently performed with the Chicago Symphony Orchestra. In November 2019, he toured with the Orchestra to New York playing at Carnegie Hall under Riccardo Muti's Baton. He can also be heard playing second trombone in the CSO-Resound CD "Shostakovich: Sym. 13".
He has performed with the Lyric Opera of Chicago, Elgin Symphony Orchestra, Tower Brass of Chicago, Chicago Philharmonic, Castile & Leon Symphony Orchestra, Granada Symphony Orchestra and the Royal Symphony Orchestra of Seville.
He recently was the featured soloist with the Fox Valley Orchestra and Maestro Stephen Squires on the Concertino by Ferdinand David.
From 2015 to 2018, he was Trombone Professor of the International Music Campus "Villa del Tiemblo" in Ávila, Spain. From 2016 to 2019, he was guest artist at the Professional Conservatory of Salamanca, Spain.