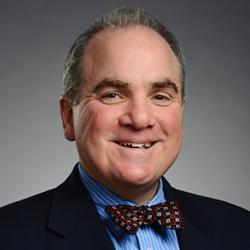 Chicago College of Performing Arts
» Office of Music Conservatory
About Me
Charles Schuchat has performed and recorded with the Chicago Symphony, Boston Symphony and the Israel Philharmonic. In addition to being principal tuba of the Elgin Symphony Orchestra, Schuchat is a member of Tower Brass of Chicago. He is also principal tuba with the Chicago Sinfonietta and a member of the award winning Asbury Brass Quintet. He has participated in numerous music festivals including the Spoleto Festival, Ravinia Festival, Brevard, Grant Park, Tanglewood Music Festival, Santa Fe Opera, and Peninsula Music Festival. While at Tanglewood he received the CD Jackson Award for Achievement. 
Charles Schuchat is currently a faculty member at the  Birch Creek Music Academy and the Chicago College of Performing Arts of Roosevelt University where he is the brass area head.
Charles Schuchat is a native of Washington, DC and a graduate of Northwestern University where he studied with the legendary  Arnold Jacobs. His teaching philosophy is to meet the student where they are at the moment and often will stress ease and efficiency in the body while making music on their instrument. This approach is heavily influenced by his work with Jacobs and also his study of the Alexander Technique, Yoga and Mindfulness.
He is always interested in helping prospective students in their preparation for a career in music. Whether it is for choosing where and what to study or selecting a new instrument.
Blazevich Etude #9 webinar
Bohme Sextet for Brass performance by Asbury Brass Quintet
An Die Music Schubert arr. Schuchat performance by Tower Brass