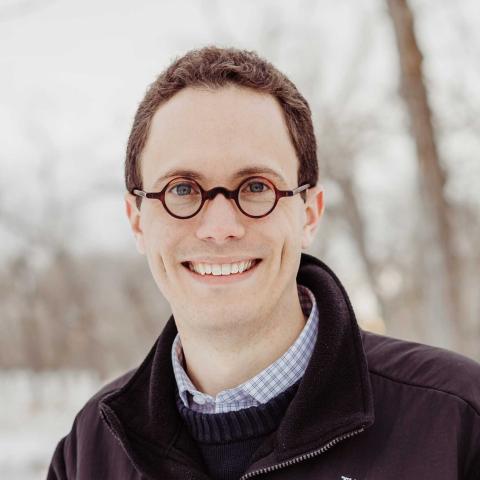 Associate Dean, Chicago College of Performing Arts
Chicago College of Performing Arts
» Dean's Office CCPA
About Me
Thomas J. Kernan, Associate Dean of the Chicago College of Performing Arts and Associate Professor of Music History, has served on the CCPA faculty since Fall 2014. Dean Kernan supports and manages the academic operations of the college's Music Conservatory, Theatre Conservatory, and Interdisciplinary Studies Programs.
Dean Kernan is a scholar of American music. In recent projects his research has addressed the musical memorialization of Abraham Lincoln, from his death in 1865 to the present, as well as the history of concert audiences' musical and extra-musical experiences.
Dean Kernan's Lincoln research earned the 2016 Hay-Nicolay Prize from the Abraham Lincoln Association and Abraham Lincoln Institute. His work on the American concert hall experience earned the 2019–2020 Newberry Library Rudolph Ganz Long-term Fellowship in American Music. His award-winning teaching has been recognized by the University of Cincinnati (CCM), where he completed his MM and PhD, and by Roosevelt University, where he earned the Provost's 2019 Award for Innovative Curricular Design.
Dean Kernan is married to culinary historian Sarah Peters Kernan with whom he has three active children. Outside of academic life, he enjoys reading widely, traveling, and eating and drinking tasty foodstuffs and libations.
Recent Publications
"Mourning, Judgment, and Resurrection: Christian Imagery in Reconstruction Sheet Music." In Sacred and Secular Intersections in Music of the Long Nineteenth Century, edited by Markus Rathey and Effie Papanikolaou. Lanham, MD: Lexington Books, an imprint of Rowman & Littlefield, 2022.
"Performing Unmet Hopes: Salvatore Martirano's L's GA." NON:op Open Opera Works Blog, September 2020.
"The Civil War Memorialized." In Music and War in the United States, edited by Sarah M. Kraaz. New York: Routledge, 2018.
"Roosevelt University's Restored Moog Synthesizers." American Musical Instrument Society Newsletter 47 (Spring 2018): 8.
"Vilification or Problematization? John Wilkes Booth in Popular Songs and Musicals." In Tyranny and Music, edited by Joseph E. Morgan and Gregory Reish. Lanham, MD: Lexington Books, an imprint of Rowman & Littlefield, 2017.
"What of the Performers? The Case of the Percussion Group Cincinnati and Percussion Chamber Music Historiography." In The Modern Percussion Revolution: Journeys of the Progressive Artist, edited by Kevin Lewis and Gustavo Aguilar. New York: Routledge, 2014.
"Drum Set," "Prepared Piano," and "Timpani." In The Grove Dictionary of American Music. 2nd ed. New York: Oxford University Press, 2013.
Public Musicology Projects
"Abraham Lincoln's Legacy in Music," Newberry Library Digital Collection for the Classroom, July 2018.
"Lincoln in Music and Letters," radio show distributed through the WFMT Radio Network, aired February 2017–February 2018.
"Columbus Concert in Honor of Abraham Lincoln," radio show aired on Music in Mid-Ohio (WOSU), July 2017.
Recent Classes and Seminars
Bernstein at the Boundaries (graduate seminar)
Concepts of Musical Ideals: The Great American Opera and Great American Symphony (graduate seminar)
Constructing Musical Monuments in Post-war America (graduate seminar)
Destination Chicago: Émigré, Immigrant, and Migrant Musicians and the Creation of Cultural Identity (graduate transformational learning seminar)
Hamilton and Musicals Recalling History (undergraduate honors seminar)
Listening in Place (online, intensive, experiential learning course)
Music Style and Literature (introductory graduate course)
"A Song for Anything": The Songs of Charles Ives (graduate seminar)
Sounds of Summer: Chicago's Festivals, Their Planners, Participants, and Soundtracks (summer intensive course)
Vernacular Music of the United States (undergraduate survey)
Western Music History, since 1800 (undergraduate survey)
Topic of Expertise
American Music

Vernacular (popular) and cultivated (concert/art) music in the United States, from the nineteenth century to the present.

Musical Memorialization

The ways that music has been (and can be) used to form audible monuments and rituals to people and events.

Music and the U.S. Presidency

Especially, music composed for and about Abraham Lincoln.
Education
PhD

Musicology with cognate studies in American History — University of Cincinnati, College-Conservatory of Music

MM

Music History — University of Cincinnati, College-Conservatory of Music

BM

Music Performance — University of Missouri-Kansas City
Degree Program Affiliations