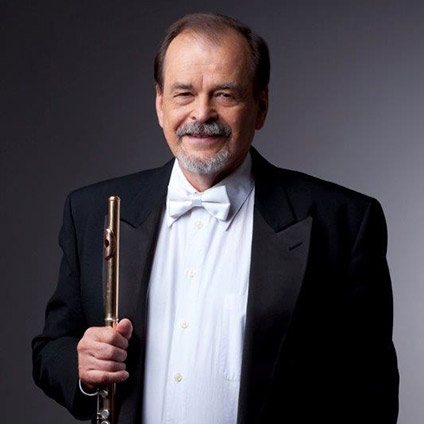 Chicago College of Performing Arts
» Music Conservatory
About Me
Assistant Principal Flutist of the Chicago Symphony Orchestra since 1968, Richard Graef holds a Bachelor of Music degree from the Oberlin Conservatory of Music and a Master of Music degree from Indiana University. He also attended the Aspen Music School and later traveled to Salzburg, Austria, to attend the Mozarteum Academy of Music.
Before coming to Chicago, Graef served as assistant principal flutist of the Minnesota Orchestra from 1966 to 1968. On leave of absence from the Chicago Symphony Orchestra during the 1985-1986 season, he returned to his home state, where he was appointed professor of music in flute at Indiana University.
Graef is an active performer and teacher of the Baroque, one-keyed flute, and he has an extensive collection of historic flutes. Graef is currently an associate professor in flute at Northwestern University School of Music, teaching both modern and early flute technique. Richard was also honored with a Grammy Award for his performances with Chicago Pro Musica.
During the 1990s, Graef teamed up with his flutist wife Emily to lead the Galena Chamber Ensemble in an extensive chamber music concert series in Galena, Illinois. More recently, the couple is active in the Chicago area performing with other CSO colleagues as the Juliani Ensemble
Outside of music, Graef has an active interest in environmental causes and is involved in the U.S. Fish and Wildlife Service in the restoration and preservation of a remnant oak woodland and tall-grass prairie on his property in Wisconsin.
Richard is the father of four children: Rick, Rachel, Anita and Julian.
More information about Richard:
Bachelor of Music Oberlin Conservatory of Music 1964
Master of Music,  Indiana University School of Music 1968
Performance Certificate, Mozarteum Academy of Music, Salzburg, Austria 1964
Assistant Principal Flutist Minneapolis (Minnesota) Symphony Orchestra.  1966-68
Assistant Principal Flutist, Chicago Symphony Orchestra,  1968-present
Professor of Flute, Indiana University,  1986-7
Associate Professor of Flute and Baroque Flute , Northwestern University, 1987-present
Professor of Flute, Chicago College of Performing Arts, Roosevelt University. 2014-present
Solo Flutist, The Juliani Ensemble, 1998-present
Grammy Award, Best New Classical Artist, for recordings with Chicago Pro Musica, 1987
Award from the United States Fish and Wildlife Service for Conservation work in Native Prairie Restoration.
Education
BM

Flute Performance — Oberlin Conservatory of Music

MM

Flute Performance — Indiana University