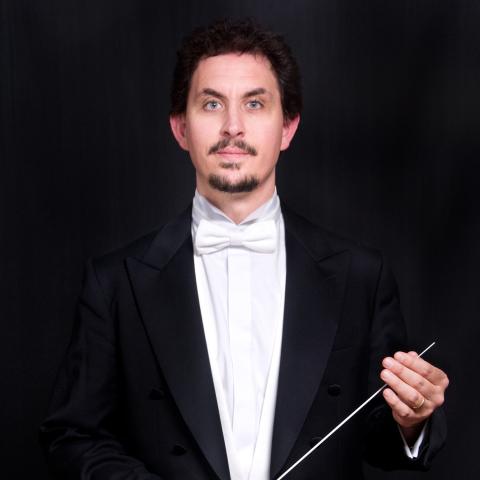 Asoc Teach Prf Conducting
Chicago College of Performing Arts
» Office of Music Conservatory
About Me
Educated in the rich musical tradition of Rome's Conservatory as a conductor, composer, and pianist, Mo Andrizzi, whose conducting has been praised as "admirable" by the Chicago Tribune and full of "spirit and thoughtfulness" by the San Diego Union Tribune, has become a versatile musician with a vast experience in the symphonic, operatic, choral, and ballet repertoires and a passion for the many areas of the musical arts. As a conductor, he has worked with various symphonic, operatic, and ballet companies and conducted, in the past several years, at the Lyric Opera of Chicago, San Diego Opera, Orchestra Filarmonica Marchigiana, Joffrey Ballet, Chicago Philharmonic, Orchestra della Città di Ravenna, Opera Theater of St. Louis, Cluj Symphony, Chicago Opera Theater, and New Philharmonic among others. He has also collaborated with important music festivals, including the Millennium Park, the Ravinia, and the Latino Music Festivals. Many international artists have performed as soloists with Mo Andrizzi in concertos, operas, recitals, and recordings including Ferruccio Furlanetto, Frederica Von Stade, Maurizio Baglini, Frank Almond, Esteban Batallán, James Pellerite, David Taylor, Wael Farouk, Winston Choi, Adam Neiman, Almita Vamos, and Joyce Castle.
As a long-time opera conductor and expert in the Italian repertoire, in 2018, he started working with a team of International Artists to fill a void within Chicago's current operatic climate and create the Opera Festival of Chicago (operafestivalchicago.org). Maestro Andrizzi, as the Music Director of the Opera Festival of Chicago, has programmed Italian masterworks that had never before been performed in Chicago and the Midwest, such as Verdi's Il Corsaro and others, and led the company to get national attention thanks to world-class performances, the most recent of which have been broadcast on some of the major Classical Music stations in the US and around the world.
In addition to being a passionate conductor, Mo Andrizzi is a dedicated educator. He has worked since 2013 as the Conductor and Head of the Orchestral Program at the prestigious Chicago College of Performing Arts at Roosevelt University, where he has helped in the development of a top-rated Orchestral Studies program. Mo Andrizzi is very passionate about his work with young musicians and has often collaborated with international young artist programs, including the Ryan Opera Center, the Mediterranean Opera Studio and Festival, and the Chicago Opera Theater Young Artist Program. In addition, he has guest conducted in various university music programs, such as at the Jacobs School of Music at Indiana University, the Bienen School of Music at Northwestern University and the DePaul University, and taught conducting masterclasses in some of the best Schools of Music in the US, including the Cleveland Institute of Music. Mo Andrizzi has also conducted many All-State, Honors, and Youth Orchestras sharing his passion for the musical arts with young musicians from around the country. Finally, Mo Andrizzi has collaborated with several orchestras to create and lead their Family, Education, and Holiday programs, ultimately creating a special relationship with the Chicago Philharmonic and conducting the orchestra's outreach and side-by-side programs for several years.
Mo. Andrizzi is a recipient of the Illinois Council of Orchestras' 2021 Conductor of the Year Award, the Honorable Mention Award at the International Competition for Conductors of Contemporary Music "4X4 Prize," and a winner of the "P. Barrasso" International Competition for Chamber Music. Previous positions include Music Director and Conductor of the Cervantes Orchestra of Chicago, an orchestra dedicated to the divulgation of Hispanic and Spanish Classical music. He also served as assistant conductor of Maestros Andrew Davis and James Conlon.
Born in Rome, Italy, Mo Andrizzi received a Diploma in piano performance from the A. Casella Conservatory and graduated in both conducting and composition at the Santa Cecilia Conservatory; after he moved to the United States of America he earned both a Master in Conducting at Bard College and, finally, a DMA in Conducting Performance at Northwestern University. After leaving his native country, he lived and worked in both Portugal and Spain, before moving to the Chicago area, where he currently resides with his wife and three kids. His numerous traveling experiences have helped Mo Andrizzi become proficient in several different languages, which have given him the opportunity to effectively express and communicate his musical ideas to musicians from around the world.
Recent guest conducting engagements have included his debut with the Richmond Symphony and the Orchestra Sinfonica Marchigiana and with the internationally renowned Joffrey Ballet.
​​​​​
Topic of Expertise
Orchestral Conducting

Symphonic, Opera, Choral, Ballet Repertoires
Education
DMA

Orchestral Conducting — Bienen School of Music at Northwestern University

Ten-Year D

Composition — "Santa Cecilia" Conservatory of Music - Rome, Italy

Artist Dip

Orchestral Conducting — "Santa Cecilia" Conservatory of Music - Rome, Italy

MFA

Orchestral Conducting — Bard College

Performanc

Piano — "A. Casella" Conservatory of Music - L'Aquila, Italy